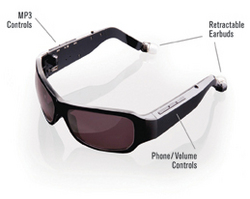 Beyond the form and function of these glasses, their performance is without equal
Las Vegas, NV (PRWEB) January 7, 2009
Tri-Specs® Inc., the company that combines high-tech and high-fashion in user-friendly consumer electronics, is now offering Bluetooth-enabled eyewear that combines the best acoustic technology for noise cancellation and voice quality in mobile communications with acoustically enhanced, premium stereo sound for a great MP3 music experience using buttons on the arms of the glasses.
TriSpecs™ are highly styled glasses with a simple user experience and STEP Labs' unsurpassed noise elimination acoustic technology. They combine dual microphones, dual speakers, and Bluetooth connectivity in a mobile accessory which produces the best voice quality and intelligibility on the market.
"Beyond the form and function of these glasses, their performance is without equal," said Isaac Levy, CEO of Tri-Specs, Inc. "Once you try them, you'll know why TriSpecs are a must-have accessory in every wireless and fashion accessory manufacturer's product line."
TriSpecs integrate the patented STEPvoice™ software from STEP Labs. STEPvoice uses the physics of sound propagation to define the shape and arrival time of sound waves to isolate voice signals from undesired noises. STEP Labs' software is able to tell the difference between the wearer's voice and other voices, sounds, and noises, preserving the natural fidelity of the voice and producing near-perfect voice recognition performance, and impeccable noise cancellation.
"The form factor of TriSpecs glasses allowed our acoustic engineers to design a dual-microphone solution that produces an unbelievable Bluetooth headset experience," said Michael Hickerson, President of STEP Labs. "Stop by our booth at CES to hear TriSpecs' exceptional voice quality for yourself - even when surrounded by 95 decibels of noise from the show floor."
TriSpecs sunglasses are now available with a variety of features, styles, and colors.

Power turns on by extending the in-ear speakers
Voice prompts and voice dialing for easy, hands-free use
Instant, dynamic volume to compensate for noise changes in the environment
Retractable standard earbud speakers or upgrade with in-ear barrel speakers
One-touch activation of phone calls
MP3 and call control buttons on the arms of the glasses
Available in black, white, and metallic with optional designs and style elements
Wireless OEMs, retailers, wireless carriers, and fashion accessory companies who would like to add TriSpecs to their product line are encouraged to get full details and try them in person. Tri-Specs will available throughout CES in North Hall Booth 931.
About Tri-Specs, Inc.:
Tri-Specs is a consumer electronics manufacturer that blends high-tech and high-fashion into attractive, consumer-friendly devices using worldwide patents, top designers, and quality manufacturing. New styles and features in the TriSpecs platform are released regularly and are available to be manufactured and branded for Tri-Specs customers worldwide. TriSpecs is a trademark of Tri-Specs, Inc, a New York based company. For more, please visit http://www.TRIspecs.com.
About STEP Labs
STEP Labs is a venture-backed, Silicon Valley-based acoustic software and acoustic design services company whose technology produces natural sounding voice communications even in extreme noise environments. STEP's patented technology enables near-perfect voice recognition and hands-free communication across a wide range of wireless telecommunications and consumer electronic devices. STEP Labs, STEPware, and Step OnBoard are trademarks of STEP Labs Inc. http://www.step-labs.com
###