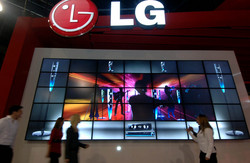 In the year ahead, LG will reinforce its position as an industry leader, with new products that embody the perfect blend of innovative technologies and environmentally-friendly credentials
Las Vegas, NV (PRWEB) January 7, 2009
LG Electronics (LG), a global leader and technology innovator in consumer electronics, will unveil its latest products and technologies at the 2009 International CES®.
LG's key highlights this year will be several new display products, six world's first TV technologies and an expanded range of audio-video products.
Beautifully hidden inside of LGs new TVs are actually six "firsts" in TV technology, including slim LED-backlight, wireless 1080p Full HD, TruMotion 240Hz, faster response times, new networking capabilities and innovative energy saving features. Creating environmentally-friendly products is a primary concern for LG in 2009, and the company has incorporated power saving features and technologies across its entire line of display products.
Fourteen LG products received CES Innovations Awards for 2009. Most prominent among these are a Best of Innovations Award in the mobile handset category for the LG Dare, a touch screen phone with a groundbreaking user interface (UI), and the same award in the home electronics category for LG's steam washer/dryer pair. Overall, the company took home awards for two display products, five mobile handsets, three home electronics products, three audio-video products and one PC accessory.
"In the year ahead, LG will reinforce its position as an industry leader, with new products that embody the perfect blend of innovative technologies and environmentally-friendly credentials," said Michael Ahn, president and CEO of LG Electronics North America. "Despite the economic downturn, we are confident that in 2009 we will still be able to deliver the best products that consumers have come to expect from LG and these CES Innovations Awards reaffirm that belief."
LG's highlights at this year's CES include:
Flat Panel TVs
LG's line-up of TVs for 2009 incorporates incredible new technologies that break the old assumption that improvements in style, aesthetics, convenience or energy savings require tradeoffs in picture quality. This year's achievements include the world's slimmest LED LCD TV -- a 2009 CES Innovations Award honoree -- wireless 1080p Full HD TV, broadband enabled TVs and energy saving display products. LG is also showcasing a 15-inch OLED TV prototype.

World's slimmest LED-backlit LCD TV
The world's slimmest LED-backlit panel with local dimming technology is incorporated into the LG's LH90 series(LH90 and LHX), allowing for an extremely thin design with a built-in tuner. In its LHX line, LG was able to keep the set at an incredible 24.8mm by using silicone lenses to amplify the light while simultaneously increasing backlight quality. In addition, LG's premium LH90 series is the perfect combination of a sleek exterior with unmatched picture quality, a masterpiece of visual entertainment.
Premium LCD TV product line - Wireless 1080p and 240Hz
TVs have evolved into beautiful works of art worthy of hanging on walls but ugly cords and cables emerging from the back have remained a decorator's worst nightmare. LG's LHX and LH85 are the first TVs to eliminate this problem without sacrificing image quality, delivering 1080p Full HD resolution from a wireless transmitter up to 30 feet away, allowing consumers to have all of the beauty and none of the clutter.
240Hz LED-scanning technology also creates crystal clear images with natural movement. LG's TruMotion 240Hz technology eliminates motion blur using backlight control technology, instead of compensating with interpolation data as other sets do.
LG is also showcasing two new broadband HDTV series (LH50 LCD TV/PS80 PDP TV) with NetCast™ Entertainment Access that offer instant streaming of movies, TV shows, video and a widget-based user experience via Ethernet connectivity directly to the television.
The company's new plasma TV series uses the latest generation of panel technology for improved brightness, reduced reflectivity and faster response times with 600Hz smooth motion for an incredible view. The 1080p series (PS60, PS80) also features THX Media Director Certification, providing accurate picture reproduction and a more immersive viewing experience.
LG's new product line meets Energy Star 3.0 specifications and incorporates additional energy saving features. The company's "Smart Energy Saving" package consists of features such as backlight control options and video mute with some series adding Intelligent Sensor, which saves energy by automatically adjusting picture brightness based on ambient light. LG is leading the way toward increased energy efficiency in the industry while at the same time allowing consumers to customize their viewing experience.
Audio/ Video Products
Led by its award-winning Blu-ray home theater system, LG has expanded its 2008 digital audio-video line with a Blu-ray disc player series and by having its entire suite of audio/video products tuned by renowned audio expert Mark Levinson.
Blu-ray home theater system
Targeting premium-seeking customers, the LG HB954PZW/LHB979 opens the door to the true home theater era, supporting various formats from Blu-ray DVD to CD titles, enabling consumers to enjoy outstanding performance in sound and picture. Easy installation with HDMI 2 Input (HDMI In/Out Port) developed by LG, is another new feature of the HB954PZ. It also supports HDMI version 1.3, allowing the system to deliver Full HD 1080p images in deep and vivid detail.
Condensing a 5-channel virtual surround sound system into a single convenient unit, the stylish FB44 offers a built-in DVD player and wealth of inputs including an iPod dock. But the FB44 is far more than just a sleek CD player/radio; it serves as an integrated multimedia hub linking a variety of devices to create a complete digital environment.
Network Blu-ray disc player
The BD series(BD390, BD370, BD300) supports BD Live (BD-ROM Profile 2.0), which enables users to connect to the internet and download video images, subtitles and other data as well as enjoy related quizzes and multi-player interactive games, adding value for consumers. Streaming online services, such as YouTube videos and Netflix movies and TV programs give customers access to a massive virtual entertainment library.
LCD Monitors
Including the super slim (20mm) 24-inch LED backlight unit (BLU) monitor, LG will introduce seven new monitor product lines, from the ultra-slim wireless LCD monitor to its most advanced Smart Monitor. LG will also be showcasing its Triple View monitor, the recipient of the CES Innovation Award, which is capable of producing three distinct images depending on the viewing angle. LG's Digital Photo Frame Series, recognized for its stylish design and advanced technology, will also be on display at the show.
Ultra-slim LED monitor with world's best contrast ratio
At 20mm, LG's premium LED BLU monitor is the world's slimmest 24-inch display, boasts the world's highest contrast ratio at 1,000,000:1 and the world's fastest response rate at 2 milliseconds. The smart and stylish W2486L contains no mercury and requires approximately 50 percent less energy compared to a cold cathode fluorescent lamp (CCFL) BLU monitor.
LG's flagship Smart Monitor series is available in 22-, 23-, 24- and 27-inch class sizes. Key specifications include Cinema Mode which reduces on-screen contrast and brightness when full-motion video is not present and the Intelligent Sensor feature which automatically adjusts the picture based on the content displayed and room-lighting conditions.
Mobile Handsets
The newest mobile products for 2009 include phones and accessories with the latest in touch screen technology, advanced music and TV capabilities, Bluetooth 2.0 and solar power technology. LG mobile phones continue to bring style and function to the wireless industry, as demonstrated by the world's first 3G watch phone equipped with a touch screen.
LG mobile phones have been honored with multiple 2009 CES Innovations Awards, including the LG Dare, LG Invision, LG Vu and LG HFB-500. These award-winning products will be on display at the LG booth where visitors can experience the company's advanced handset technologies first-hand.
Other handsets to be on display include LG Incite, LG Invision, LG Rhythm, LG Lotus, LG Dare, LG Decoy, LG Chocolate 3, LG enV2, LG Vu, and LG Rumor, along with accessories such as the Bluetooth Mono headset.
Network-Attached Storage
Perfect for both homes and small businesses, the N4B1 NAS goes beyond simple storage to offer advanced data management features including a built-in Blu-ray drive, file sharing and version management functions. The N4B1 is the world's first NAS with built-in Blu-ray rewriter, making it possible to burn as much as 50 gigabytes of data onto popular Blu-ray discs.
The 2009 International Consumer Electronics Show will take place at the Las Vegas Convention Center from January 8 through 11, 2009. Visitors can get up close and personal with LG products at the company's booth, #8214 in Central Hall. For more information, LG's press kit will be available for download at http://www.lge.com/ces2009 beginning January 7 at 3:00 p.m. PST
About LG Electronics, Inc.
LG Electronics, Inc. (KSE: 066570.KS) is a global leader and technology innovator in consumer electronics, home appliances and mobile communications, employing more than 82,000 people working in 114 operations including 82 subsidiaries around the world. With annual worldwide revenues exceeding $40 billion, LG is comprised of five business units - Home Entertainment, Home Appliance, Air Conditioning, Business Solutions and Mobile Communications. LG is the world's leading producer of mobile handsets, flat panel TVs, air conditioners, front-loading washing machines, optical storage products, DVD players and home theater systems. For more information, please visit http://www.lge.com.
###