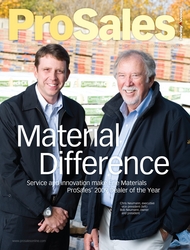 Carlo's extensive profile of Erie in our January issue makes clear just how special this company is
Washington, DC (PRWEB) January 8, 2009
PROSALES magazine is pleased to announce its 2008 PROSALES Dealer of the Year Award goes to Erie Materials, Syracuse, N.Y.
The PROSALES Dealer of the Year Award honors outstanding achievements in construction supply operations, management and innovations, as well as meritorious service to the dealer's community and to the lumber and building material industry. Only one construction supply dealer is chosen per year. As winner, Erie is featured in the cover story in PROSALES' January issue, and the company will be honored Jan. 22 at a PROSALES breakfast in Las Vegas during the International Builders' Show.
"PROSALES picked Erie because of its record of solid growth, continual expansion, and giving back to both its employees and the community," said Craig Webb, editor, PROSALES magazine. As senior editor Andy Carlo wrote in this month's issue: "From its founding 35 years ago in what essentially was a garage, it has grown into a 10-unit dealer on track to generate sales of $175 million in 2008. In an era in which the vast majority of construction supply dealers have seen sales drop--and often plummet--Erie continues to grow. And it does that while serving central and upstate New York and eastern Pennsylvania, not exactly the most bustling of housing markets."
Erie ranks 27th on the PROSALES 100 list of America's biggest pro-oriented construction supplier companies. It's notable among its peers in the lumber and building materials business in that it doesn't sell lumber; rather, it focuses on commercial and residential roofing as well as siding, windows and doors, and such ancillary products as decking, stone veneer, trusses, gutters, and steel roofing. Erie also merits attention for the redistribution center it created that enables the company to get needed products from one store to another and on to the right job site in just one day.
"Carlo's extensive profile of Erie in our January issue makes clear just how special this company is," said Webb. To read that story, visit http://www.prosalesonline.com.
About Hanley Wood
Hanley Wood, LLC, is the premier media and information company serving housing and construction. Through four operating divisions, the company produces award-winning magazines and Web sites, marquee trade shows and events, rich data and custom marketing solutions. The company also is North America's leading publisher of home plans. Hanley Wood Business Media (Washington, D.C.), publishes 30 award-winning residential and commercial construction titles, including BUILDER, REMODELING, ARCHITECT, CUSTOM HOME, CONCRETE CONSTRUCTION and residential architect. Hanley Wood Business Media also offers the construction industry's foremost collection of Web sites, including BUILDER ONLINE, REMODELING ONLINE, and ebuild, the comprehensive online guide to building products, as well as the largest collection of house plans online through eplans.com and Dream Home Source.
Founded in 1976, Hanley Wood is a $250 million company owned by affiliates of JPMorgan Partners, LLC. CCMP Capital Advisors manages the Hanley Wood investment for JPMorgan Partners.
###