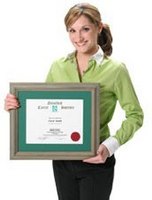 In these times of economic uncertainty, getting an education is more important than ever
St. Albans, Vermont (PRWEB) January 9, 2009 - -
More than one million students worldwide have enrolled with Stratford Career Institute, a high quality distance learning correspondence school that offers 60 career training courses in some of today's most lucrative career fields.
Begun in 1991, Stratford Career Institute offers students a wide range of guided, independent home study courses in a variety of contemporary career fields, including: business, computer technology, counseling/education, legal, medical, vocational trades and creative careers. Stratford also offers a highly successfully high school diploma program.
"In these times of economic uncertainty, getting an education is more important than ever," said John McNeff, vice president for marketing at Stratford Career Institute.
"In fact, the U.S. Department of Labor indicates that 90% of the fastest growing jobs in the U.S. now require some form of postsecondary education.* Stratford Career Institute is an excellent opportunity for individuals to obtain an affordable education that could increase their earning potential and greatly improve their quality of life."
The number of students enrolling in distance learning programs continues to grow. The United States Distance Learning Association estimates that more than 2.3 million students will take distance learning courses over the next few years.**
Stratford Career Institute continues to gain momentum as a viable distance education school for individuals whose busy schedules or personal commitments inhibit them from participating in traditional classroom-style learning.
Stratford aims to help these individuals get the career training they need to enhance their skills, which could lead to making more money, getting a better job or promotion, or even starting a new career.
All of Stratford's career training courses are developed by professionals in their respective field of expertise. The textbooks and study guides are specifically designed for distance learning and are produced at some of the same prestigious publishing houses as many college textbooks.
Students receive all of their course materials through the mail, but can take tests, contact instructors, and review grades online using Stratford's student log-in page. Students can finish their studies in as little as six months, but have up to two years to graduate and receive their career diploma.
For nearly two decades Stratford Career Institute has proudly upheld its mission to provide a diverse range of educational programs aimed at career advancement, self-improvement, and the fulfillment of cultural, creative, and recreational goals of its students.
Anyone interested in learning more about one of Stratford's career training programs can request a Free Career Information Package online at http://www.scitraining.com or call Stratford's toll-free phone number 1-800-363-0058 for more information.
Stratford Career Institute is currently a member of the United States Distance Learning Association, the International Council for Distance Education (ICDE) and the Better Business Bureau, and also has academic affiliations with the Housing Inspection Foundation, the National Association of Real Estate Appraisers, the Guild of Industrial, Commercial, and Institutional Accountants (ICIA) and the Institute of Certified Travel Agents (ICTA).
Stratford's programs are specifically designed to serve as an introduction or enhancement of the theoretical knowledge required for the vocational application of a particular subject and not meant as a substitute for certificate or licensing programs.
*Eduventures, Inc. 2008 - The Adult Learner: An Eduventures Perspective
**Source: United States Distance Learning Association on the web: http://www.usdla.org/html/resources/dllp/pd.htm
###