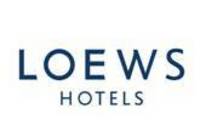 New York (Vocus) January 8, 2009
As President-elect Barack Obama finalizes his cabinet appointments, it's time for him to make another crucial decision. Which lucky dog will be the "First Pooch?" The search for the Obama family's new puppy has turned the spotlight on pets, and Loews Hotels is offering an "indoguration" for all with the "Presidential Pooch" package, available for the first 100 days of the Obama administration, January 20 through April 29, 2009.
The "Presidential Pooch" package includes:

A one-night stay at one of Loews Hotels 17 properties for guests and their pets
A special "Stars and Stripes" room service meal for pups (see recipe below)
A patriotic-themed bandana for dogs to wear home
The "Presidential Pooch" package is offered at a 10% discount off Loews Best Available Rate. Room rates vary by location and start at $139.
Since the introduction of the "Loews Loves Pets" program nearly a decade ago, many VIPs (Very Important Pets) have made Loews Hotels their home away from home, enjoying the special treatment and privileges that are offered at all of the chain's properties in the U.S. and Canada. As part of the Loews Loves Pets program, each visiting VIP can travel in first-class comfort with gourmet room service, specialized bedding, a pet amenity and guest services designed to make pets and their owners feel right at home.
The Loews "Presidential Pooch" package is subject to availability and is bookable at 17 Loews Hotels in the U.S. and Canada. For more information or to book, call 1-800-23-LOEWS or visit http://www.loewshotels.com.
Headquartered in New York City, Loews Hotels owns and/or operates 17 hotels and resorts in the U.S. and Canada. Located in major city centers and resort destinations from coast to coast, the Loews portfolio features one-of-a-kind properties that go beyond Four Diamond standards to delight guests with a supremely comfortable, uniquely local and vibrant travel experience. Loews boasts some of the industry's most innovative and successful travel programs, including Loews Loves Kids for families and Loews Loves Pets for discerning animals on the road. For reservations or more information on Loews Hotels, call 1-800-23-LOEWS or check http://www.loewshotels.com.
Loews Loves Pets - Stars and Stripes Recipe
Ingredients:
1/2 cup Cooked Sundried Tomato Fettucini
1/2 cup Cooked Star Shaped Pasta
1/3 cup Dried Blue Corn Kernels
2 T Olive Oil
1 lb Ground Turkey
1 ea Egg, whole
Directions:
Step 1: Place the dried blue corn in cold water and bring to a boil
Step 2: Remove from the fire and let cool down until fully rehydrated
Step 3: Sauté the ground turkey in the olive oil, then add the egg and scramble until turkey and egg are fully cooked
Step 4: Add the red fettuccini strips, the white star pasta, and the blue corn kernels and let cool to the touch
Step 5: Serve in an oval bowl. The portion size will vary according to the size of patriotic pet
Contact:
Emily Goldfischer
Loews Hotels.
(212) 521-2833
Michelle Colligan/Gabriella McNamara
Redpoint Marketing PR, Inc.
(212) 229-0119
###