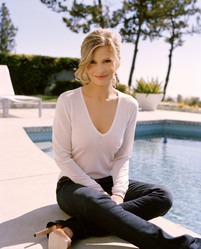 As a parent, there is nothing more important to me than my children's safety. It is my pleasure to partner with NCMEC and Duracell to focus attention on these helpful tools and let parents know that there are simple things they can do to protect their children
Bethel, CT (PRWEB) January 8, 2009
Power of Parents, a child safety program created in partnership with the National Center for Missing & Exploited Children (NCMEC) and Duracell, announced today that they will join forces with Golden Globe-winning actress Kyra Sedgwick in delivering crucial information about keeping America's children safer through a radio Public Service Announcement. Sedgwick lends her distinct voice and star power to spread awareness about the free downloadable tools available on the program's Web site, http://www.powerofparentsonline.com, that help teach parents about how to talk to their children about safety.
According to a new national study among parents, more than half of them say that they are looking for new ways to teach their family how to stay safe. Additionally most parents believe that they are confident with their ability to monitor their children's online communications, however less than half of parents surveyed discussed online safety with their children in the past month. ¹The Power of Parents program aims to remind parents and guardians that the best line of defense in child safety is the guidance parents give to their children and the importance of having conversations with their children continually, as they progress through different developmental stages.
"As a parent, there is nothing more important to me than my children's safety. It is my pleasure to partner with NCMEC and Duracell to focus attention on these helpful tools and let parents know that there are simple things they can do to protect their children," says Ms. Sedgwick.
To help parents guide the conversation with their children, NCMEC and Duracell have expanded their child safety resource portfolio with the addition of a new, free Child Safety Handbook. The handbook has been developed for parents of children who are infant through high school ages. Understanding that with different stages of development a child's behavior pattern changes, the handbook outlines age-appropriate tips and scenarios that parents need to be aware of, as well as some outside influences that may be impacting their child's actions. A sampling of current child safety technologies such as applications of GPS, wireless and Radio Frequency Identification technologies also are highlighted.
"Duracell is honored to have Kyra Sedgwick participate in our Power of Parents program," says Rick June, Duracell Vice President and General Manager. "We are proud to play a part in helping parents have the crucial conversations with their children that will enhance their safety."
The Power of Parents program launched in April 2006 with the goal of helping parents prepare, protect and empower their children by providing useful safety tools and information for families. The Power of Parents program Web site (http://www.powerofparentsonline.com) contains a variety of important safety tools for families including a free downloadable child photo ID guide, seasonal safety tips, a six-month photo ID reminder service, a free children's book designed to help 4-6 year-olds understand safety concepts and Teachable Moments Guides.
About the National Center for Missing & Exploited Children
The National Center for Missing & Exploited Children is a 501(c)(3) nonprofit organization. Since it was established by Congress in 1984, the organization has operated the toll-free 24-hour national missing children's hotline, which has handled more than 2.3 million calls. It has assisted law enforcement in the recovery of more than 132,314 children. The organization's CyberTipline has handled more than 638,000 reports of child sexual exploitation and its Child Victim Identification Program has reviewed and analyzed more than 18,650,000 child pornography images and videos. The organization works in cooperation with the U.S. Department of Justice's office of Juvenile Justice and Delinquency Prevention. To learn more about NCMEC, call its toll-free, 24-hour hotline at 1-800-THE-LOST or visit its Web site at http://www.missingkids.com.
About Duracell:
Part of the Procter & Gamble Company (NYSE:PG), Duracell has been powering people around the world for more than 40 years. Our products serve as the heart of devices that keep people connected, protect their families, entertain them and simplify their increasingly mobile lifestyles. As the world's leading manufacturer of high-performance alkaline batteries, Duracell also innovates in disposable, renewable and peripheral technologies and markets general purpose flashlights along with the advanced Daylite® LED flashlights. Visit http://www.duracell.com for more information.
About Procter & Gamble (NYSE:PG):
Three billion times a day, P&G brands touch the lives of people around the world. The company has one of the strongest portfolios of trusted, quality, leadership brands, including Pampers®, Tide®, Ariel®, Always®, Whisper®, Pantene®, Mach3®, Bounty®, Dawn®, Gain®, Pringles®, Folgers®, Charmin®, Downy®, Lenor®, Iams®, Crest®, Oral-B®, Actonel®, Duracell®, Olay®, Head & Shoulders®, Wella®, Gillette®, and Braun®. The P&G community consists of 138,000 employees working in over 80 countries worldwide. Please visit http://www.pg.com for the latest news and in-depth information about P&G and its brands.
¹IPSOS Public Affairs© Survey for the Power of Parents Program, a partnership of Duracell and the National Center for Missing & Exploited Children.
###