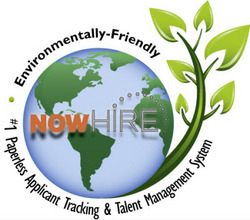 Going Paperless, Going Green: Recruiting Practices to Sustain the Environment and Your Competitive Advantage
Detriot, MI (PRWEB) January 8, 2009
Applicant tracking and I-9 compliance system provider nowHIRE.com will exhibit at the National Retail Federation's (NRF) 98th Annual Convention & EXPO at the Jacob K. Javits Convention Center in New York City from Jan. 12-13, 2009. NRF's Annual Convention and EXPO is the world's leading retail event.
nowHIRE will be at booth #570 in the "Seeing Green Concept Store". The store is an interactive indoor and outdoor market where attendees can learn about current environmental issues and threats and the best and easiest ways to build and integrate green solutions into stores.
Every year, each person in the U.S. uses the equivalent of one tree, 100 feet tall and 16 inches in diameter, to fulfill their wood and paper needs. nowHIRE's ATS makes it possible to conduct a paperless recruiting, hiring, onboarding and I-9 compliance process, enabling companies to reduce their carbon footprint.
A paperless process also enables companies to benefit from improved recruiting and hiring efficiency, improved brand awareness and financial savings. Hard cost savings include reduced energy bills, mailing, paper and printing costs for all applicants and new hires. Soft costs include the reduction of administrative work required for recruiting and hiring tasks.
AutoZone, the nation's largest automobile parts retailer, benefits from a completely paperless electronic hiring process. Since the implementation of nowHIRE's enterprise-wide ATS, AutoZone has decreased turnover by 46 percent and saved an estimated $5 million annually.
"nowHIRE's goal is to enhance the applicant experience, while streamlining the way companies do business," said Joseph N. Impastato II, nowHIRE's president. "We've built features into our ATS offerings that give companies a competitive advantage, while enabling them to do their part in sustaining the environment."
nowHIRE's recent complimentary white paper, "Going Paperless, Going Green: Recruiting Practices to Sustain the Environment and Your Competitive Advantage," outlines the benefits of a paperless recruiting, hiring and onboarding process. Download it at http://www.nowhire.com/register_GG_whitepaper.htm.
nowHIRE is also the first applicant tracking system vendor to offer paperless I-9 compliance technology with an optional E-Verify component. E-Verify® is an Internet-based system operated by the Department of Homeland Security (DHS) in partnership with the Social Security Administration (SSA). Effective Jan. 15, 2009, the E-Verify electronic employment verification system will be required for many government contractors and subcontractors.
For a first-hand look at nowHIRE's offerings, visit the company's booth #570 at NRF.
About nowHIRE
Since 1998, nowHIRE has provided applicant tracking systems for companies of every size within diverse vertical markets. Their industry-defining solutions feature fully integrated, Web-based recruiting and applicant tracking software modules. Companies can configure the software to their specific recruiting needs—for hourly, salaried, internal or contingent employees, or any combination thereof.
Media Contacts:
Joseph N. Impastato II
nowHIRE.com
586-778-8491 (15)
Joseph.Impastato (at) nowHIRE.com
Adriana Saldaña
Fisher Vista, LLC
831-685-9700
asaldana (at) HRmarketer.com
This press release was distributed through eMediawire by Human Resources Marketer (HR Marketer: http://www.HRmarketer.com) on behalf of the company listed above.
###