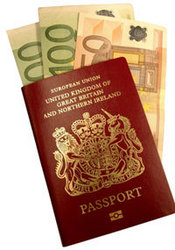 London, UK (PRWEB) January 10, 2009
Cheapflights.co.uk, the UK's leading flight price comparison website, reveals the top 10 current hidden extras while its viewers predict the extras of the future.
A recent poll asking users what low cost airlines would charge for next revealed that 51% believe they'll soon be charged for using the loo, 12% believe they'll be charged for looking out the window and 7% believe they'll be charged for sick bags. Additional responses included oxygen, membership to the mile high club, sleeping and speaking to cabin crew.
The top 10 charges imposed on travellers currently include:
1) Excess Baggage
2) Airport Taxes & Fees including Air Passenger Duty
3) Credit Card Payments
4) Priority Boarding
5) Airport Check-in vs. Online Check-in
6) Meals
7) Checked Luggage
8) Fuel Tax Charge
9) Carrying Infants
10) Travel Insurance
Recent reports have shown that Cheapflights' viewers' predictions of being charged for using the lavatory could become a reality. For example, China Southern Airlines have already started saving on the cost of fuel by requesting that passengers use the loo prior to boarding the plane.
Future cost saving measures planned by the airline include cutting back on items like blankets, pillows, magazines and water. So the idea that travellers may one day be charged for these creature comforts doesn't seem far fetched. For the full story, visit our News Blog.
Nadine Hallak, Travel Expert for Cheapflights.co.uk says, "Customers are often confused that prices listed don't correspond to the cost quoted once they've completed their booking. This is because the imposed costs are often auto-checked without the customer noticing it and can add anywhere from £5 up to £50 on the final ticket price. So when you're booking look out for pre-ticked boxes showing checked baggage charges, infant fees, sports equipment, musical instruments and so on."
Travel insurance and baggage charges are two of the most commonly 'hidden' costs within the booking process. Insurance is often automatically added and unless the traveller knows to click the button that says 'remove', he or she will incur the cost involuntarily. Although baggage charges are incurred slightly differently, they still cause confusion as different airlines have different rules and travellers can end up paying all the way up to £300 in excess.
Plans to ensure that prices will be more clearly laid out in the near future are being discussed by the European Parliament.* However, until these measures are put in place, travellers can prevent surprise extras by visiting Cheapflights.co.uk's Airline Guides section for information on hidden costs and much more.

Notes to Editors:
Cheapflights Ltd. Cheapflights pioneered flight price search and comparison in 1996 and has been consistently profitable since launch. The Cheapflights flight price comparison model publishes over a million fares daily from hundreds of sources. This empowers price sensitive consumers to get an overview of flights prices, find the best deals and the companies that offer them. Once a deal is found, the Cheapflights user can click through to a price provider's site or in many cases telephone to the provider's call-centre. Last year over 1 million telephone leads were introduced to Cheapflights' advertisers' call centres.
In 2003 Cheapflights launched its successful US site http://www.cheapflights.com . It is estimated that last year circa £2.0 Billion sales were achieved by advertisers through deals published on our UK and US sites. In 2007 Cheapflights launched its Canadian site http://www.cheapflights.ca and its first non-English language site, http://www.cheapflug.de in Germany in autumn 2008.
With over 8 million visits globally recorded in January 2008, Cheapflights is a leader in flights deals information and continues to develop its unique and highly successful product.
###