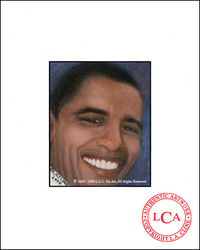 I really enjoyed working on this portrait and hope everyone is as moved by it as I am
Ft. Lauderdale, FL (PRWEB) January 13, 2009
Fort Lauderdale artist L.A. Cline presents a personal glimpse of President Elect Barack Obama in a unique pastel portrait commemorating his landmark Presidential Inauguration. This one of a kind portrait focuses your attention on his mesmerizing smile and soulful eyes that reflect the hope and change that this Country hungered for in the 2008 elections. L.A. Cline masterfully limited the size of this portrait to 4" X 5" positioned on an 8" X 10" sized background so that the viewer can see not just the physical but also the symbol that Barack Obama is, the first African American President.
L.A. Cline candidly admits that "This is the first political figure I have painted in my long career, but I just could not ignore the strong attraction I felt for Mr. Obama." After more than 20 years of being a Fine Artist, she found herself moved by Mr. Obama's smile that reflects his genuine and gentle nature. When conceptualizing President Elect Obama's portrait, L.A. Cline drew on personal inspirations and perceptions of Barack Obama. The Artist focused the composition on his engaging face that exudes a strong confidence that has been lacking for many years in politics.
"I really enjoyed working on this portrait and hope everyone is as moved by it as I am" L.A. Cline happily states. Pastels, the Artist's medium of choice is the perfect way to display Mr. Obama's understated strength and humanity. This portrait was a labor of love, as it took roughly 75 hours to complete the original. This is truly one image that stands head and shoulders above others works.
You can order a Fine Art Reproduction Print of this Historic Barack Obama Portrait for only $29.95 and other Fine Art Works from L.A. Cline at her web site http://www.lacfineart.com as well as http://www.ebay.com and http://www.Artbyus.com.
ABOUT L.A. CLINE
The Artist graduated with a Bachelor of Arts degree from Montclair State University and has been creating Pastel Paintings since childhood and for over 20 years as a working Artist. In addition to the numerous custom portraits on display in many homes, law offices and physician's offices, her permanent exhibitions include: Portraits at the Lawson E. Thomas Courthouse Center in Miami, Florida and Florida International University in North Miami, Florida. L.A. Cline has been featured in the Miami Herald Newspaper, on WPLG Channel 10, Hortt Exhibition, various galleries, restaurant showings, and numerous art shows across the country.
###