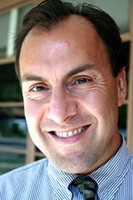 WJI is blessed to have one of America's best journalism teachers and statesmen join the institute for this academic year.
New York, N.Y. (PRWEB) January 12, 2009
Dr. Michael Longinow, Professor of Journalism at Biola University (La Mirada, Calif.) and nationally recognized journalism scholar, has been named to the position of the John McCandlish Phillips chair of journalism at the World Journalism Institute for the academic year of 2008-2009. Longinow is the chair of Biola's Department of Journalism and the advisor of The Chimes newspaper. Dr. Longinow will continue his full time administrative and teaching responsibilities for Biola University during the WJI appointment.
Longinow attended Wheaton College, earning a B.A., and completed the University of Illinois' graduate program in news-editorial journalism. He earned his Ph.D. at the University of Kentucky.
Dr. Longinow has freelanced for the Chicago Tribune and Sun-Times, as well as smaller weeklies in metro Chicago, downstate Illinois and Georgia. Longinow's reporting on racial inequities in one Georgia county's voting patterns helped change that government's structure. In 2005, he served as a newspaper columnist for the Lexington-Herald-Leader.
Longinow was invited in 1989 to teach news-editorial journalism at Asbury College. At Asbury, he launched a bilingual newspaper for migrant Hispanics and helped the Asbury Collegian become a consistent winner in statewide competition against campus weeklies its size from across Kentucky.
In 2005, Longinow moved to California to join the Biola journalism faculty. Longinow is active in the Association for Education in Journalism and Mass Communication and is a founding member of the Association of Christian Collegiate Media (ACCM). He now serves as the ACCM national executive director.
Longinow is a regular workshop presenter and panelist at national conventions of the Associated Collegiate Press and College Media Advisers, the American Press Institute, Baptist Press Student Journalism Conference, and the Poynter Institute for Media Studies. He has written chapters for five books and numerous magazine articles.
WJI Director Robert Case said, "WJI is blessed to have one of America's best journalism teachers and statesmen join the institute for this academic year."
The World Journalism Institute is located in New York City and exists to recruit, equip, place and encourage Christians in the mainstream newsrooms of America. To that end, WJI holds conferences, workshops, college-level, and multi-week courses. Additionally, WJI prints and distributes a series of essays dealing with the intersection of Christianity and journalism. For more information, World Journalism Institute.
###