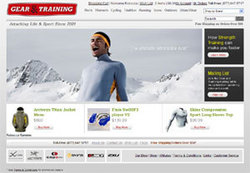 As our ecommerce business grew I discovered that there were limits on the integration capabilities and I couldn't even edit orders to change a size once it had been submitted by the shopper
Rochester, NY (PRWEB) January 9, 2009
From its inception in 2001, Gear and Training appealed to the serious athlete who sought to excel but was frustrated with all of the marketing hype. After experiencing this personally, entrepreneur Stephen McCarthy founded Gear and Training. His mission was to train and assist athletes around the world to unleash their unique gifts to succeed in life and sport.
Over time, the focus on nutrition, mental preparation, and strength training produced a loyal clientele which included elite athletes and national and state championship winners. By 2004 the business had grown to include a retail store and training center for endurance athletes. Gear and Training had quickly become the adrenaline junkies' destination store in quiet little Rogers, Minnesota.
"We knew the next logical step was to expand our reach by setting up an ecommerce website," reports McCarthy. "The beauty of the Internet is that it allows us to connect with the purist out there who values and seeks the products and services we offer -- wherever they may be located. But when it came to selecting an ecommerce provider I have to admit that I didn't do my homework the first time around. I just went online and signed up for a basic shopping cart and got started."
This scenario is very common. Access to basic, inexpensive on demand ecommerce systems gives businesses the opportunity to "find their place" in the online market without overinvesting. However, even within this market space of SaaS (Software as a Service) not all providers are equal. It is a common mistake for small and mid-tier merchants to underestimate their future technology needs and they frequently don't appreciate the importance of aligning themselves with a provider who shares their vision and is committed to helping them achieve nline success.
"As our ecommerce business grew I discovered that there were limits on the integration capabilities and I couldn't even edit orders to change a size once it had been submitted by the shopper," continues McCarthy. "I was very pleased to discover UniteU. We made the switch last summer and our growth has been fantastic. Sales and conversions are both up dramatically and backend operational roadblocks have been removed. With the UniteU ecommerce software we have a great deal of flexibility to manage the site ourselves, we have advanced analytics and we have a great team of UniteU experts who are there to help when we need it."
About UniteU
UniteU is a recognized leader in on-demand ecommerce that empowers specialty retailers to create and manage online growth. Our mission is to harness the Web's power to bring revenue to retailers. Our ability to accomplish this is demonstrated by our merchants' success. Our ecommerce solutions have powered startups who reached the pinnacles of top 100 status and we have rescued merchants who outgrew competing systems. The UniteU Connected Commerce platform adapts and scales to meet the ever-changing needs of multi-channel retailers; supporting custom designs, integration, rich media, advanced promotions, multiple payment and shipping options and intuitive search and navigation capabilities. After working with hundreds of retailers, UniteU also retains valuable expertise, offering premier managed hosting, web analytics, in addition to e-business consulting and web marketing services that drive traffic, conversions and retention. Go to http://www.uniteu.com to learn more.
# # #