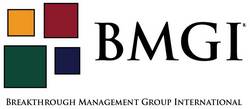 Denver, CO (PRWEB) January 11, 2009
Rising travel costs and depleted training budgets are causing many students to revise their educational goals. Unfortunately, these setbacks are occurring at the same time as demand for competent Performance Excellence practitioners is increasing. As more organizations look for ways to improve efficiency and cut costs, Lean Six Sigma Black Belts are in high demand. Breakthrough Management Group International (BMGI) in conjunction with BMG University is pleased to announce the release of its newly offering Blended Lean Six Sigma Black Belt.
The blended Lean Six Sigma Black Belt curriculum provides a detailed understanding of Lean Six Sigma, including the DMAIC methodology and key Lean tools. During the 15-week program, you learn how to apply a data-driven problem-solving methodology to improve critical processes within any organization. Lessons consist of 13 weeks (approximately 108 hours) of eLearning modules that concentrate on theory and methods. Two separate weeks in the classroom focus on the application of Lean Six Sigma tools and techniques to a project of your choosing.
Course Advantages:

Leverages the latest internet-based technologies to deliver an enhanced learning experience.
Provides more classroom time for experiential learning (simulations, tool application).
Enables you to move from topic to topic at your own pace and on your own schedule.
Reduces the cost of Black Belt training significantly by lowering hotel, food and transportation costs.
Course Includes

Interactive Macromedia Flash-based lectures that parallel BMGI's industry-recognized classroom curriculum.
A dedicated Lean Six Sigma instructor, along with virtual office hours where Lean Six Sigma instructors provide real-time online support.
Real-world case studies and examples from both manufacturing and transactional environments that enhance comprehension and understanding.
Quizzes and exercises that reinforce learning outcomes.
Comprehensive exams to test both academic knowledge and the practical aspects of using Lean Six Sigma.
BMGI is authorized by IACET to offer 18 CEUs for this program.
Who Should Attend?
Individuals who desire the technical and managerial skills of a Lean Six Sigma Black Belt. No previous Lean or Six Sigma experience required.
For more information: http://www.bmgi.com/products_services/training_blendedleansixsigmablackbelt.aspx
About Breakthrough Management Group International and BMG University:
BMGI is the world's leading provider of training and consulting for performance excellence. BMGI's public training division, BMG University, hosts classroom training and online learning courses for individuals in Lean Six Sigma, Lean, Innovation, and Leadership Development topics. The company offers its services worldwide with offices in 12 countries and with more than 100 employees. For more information on BMGI visit BMGi.com. For public training and eLearning information visit: http://www.bmguniversity.com.
###