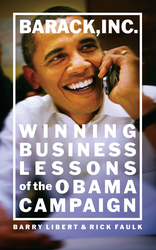 We are the change we seek. We are the ones we've been waiting for.
New York, NY (PRWEB) January 14, 2009
The unprecedented election of Barack Obama as President of the United States didn't just make history; it teaches lessons that every executive can apply to succeed in business against all odds. In BARACK, INC. Winning Business Lessons of the Obama Campaign, (FT Press; January 19, 2009, ISBN-13: 978-01370-22076, $19.99; 192 pages, http://www.barackinc.com), Barry Libert and coauthor Rick Faulk present the Obama campaign as an inspiring business case study of exemplary leadership values and winning tactics that can beat even the toughest competitors. This essential manual for an Obama approach to business also tells the stories of pioneering companies that have used similar strategies with miraculous results.
The authors interviewed Obama supporters and studied election coverage to tease out the best business insights to be learned from Obama including these three pillars of Obama's successful campaign strategy:

Creating a vast online community of supporters by harnessing the power of online social technologies including blogs, texts, video, and even an iPhone application. Just like politicians, business leaders need to create communities of stakeholders, and the latest online social networking technologies are the most effective community-building tools ever available. You'll not only learn the Internet strategies that won Obama's campaign, but also similar ones from the corporate world including Toyota's YouTube campaign, Coca-Cola's Facebook group, and Comcast's mastery of Twitter.
Keeping his cool under pressure. Just like "no-drama Obama," business leaders need to keep their cool, solicit the opinions of others, keep an open mind until the final decision is made, and avoid distractions to stay focused on what matters. If you don't, the authors write, you might end up like "the impulsive Ted Turner, who was vulnerable to emotional manipulation and found himself outmaneuvered and sidelined in his merger with Time Warner."
Becoming a catalyst for "change," which is not just what the public wants today, but is the engine of business -- the real power behind growth, innovation and progress. Obama's mantra of "change" was a tired old cliché until he gave it new life by persuading Americans that government can transcend the petty partisanship of recent years. He became the embodiment of that change, telling us, "We are the change we seek. We are the ones we've been waiting for."
By the same token, business leaders today must embrace and initiate change for the stakeholders within their own organizations-customers, employees and partners. In 2006, when Indira Nooyi was told she won the competition for the post of CEO of Pepsi, the first thing she did was fly to meet with her competitor during his vacation to beg him to stay. The moment was not unlike when Obama chose Hillary Clinton for his "Team of Rivals" cabinet. In politics as in business, putting aside animosity to do what's best for your country or company is the kind of change that can get you ahead of the competition.
The authors tell stories not just of Obama, but of his campaign manager, advisers, staffers, volunteers, speechwriter, and of course, Obama's 24-year-old internet czar Chris Hughes. Readers will learn how Obama reacted with businesslike acumen to some of the most pivotal moments in the campaign, including losing the Texas primary; the surprise introduction of Sarah Palin; hardball politics with Hillary Clinton; preparing for the debates; and recovering from the Jeremiah Wright crisis that could have lost him the presidency.
Business, just like America, requires a new type of leader to address the very different needs of today. Obama stepped up to the plate and business readers will do the same once inspired by the insights in BARACK, INC.
About the Authors:
Barry Libert is chairman and Rick Faulk CEO of Mzinga, a leading provider of social software solutions that create online communities for marketing, customer support, and learning for major corporations around the world including ABC, AOL, Disney, iVillage, Chevron Corporation, Johnson & Johnson, MTV, Sports Illustrated, and Prudential Financial. Mzinga helps major corporations around the world create online communities for marketing, customer support, and learning. It manages more than 14,000 communities and has over 60 million unique visitors every month.
Barry Libert is a pioneer in using communities and Web 2.0 technologies to help enterprises thrive and accelerate business growth. He was co-author of the recently published We Are Smarter than Me, a critically acclaimed book created in collaboration with Wharton Publishing that used the Wiki-based contributions of more than 4,000 people to illustrate how businesses could profit from the wisdom of crowds. A one-time McKinsey and Company consultant, Libert has also co-authored two other books about the business value of information and relationships. He has appeared in Newsweek, Barron's, The Wall Street Journal, CNN, CNBC, and NPR.
Rick Faulk has spent his career working in the field of marketing, on-demand collaboration, and software-as-a-service technologies. He has 21 years of executive experience at high-tech companies, among them WebEx, Intranets.com, PictureTel, Shiva Corporation, and Lotus. Early in his career, he also founded First Software, which grew to sales of more than $175 million in less than four years and was ranked on one of Inc. magazine's lists of fastest-growing companies in the United States.
About FT Press:
FT Press (http://www.ftpress.com) publishes high-quality books in the areas of General Business, Finance and Investing, Sales and Marketing, Leadership, Management and Strategy, Human Resources, and Global Business. Our brand is built on the concept of signing and publishing the world's best minds on the most relevant topics.
About Pearson:
FT Press is an imprint of Pearson (NYSE: PSO; LSE: PSON), the international media company, whose businesses include the Financial Times Group, Pearson Education and the Penguin Group. For more information, go to http://www.pearson.com.
BARACK, INC,: Winning Business Lessons of the Obama Campaign
Barry Libert and Rick Faulk
Publication date: January 19, 2008
192 pages
$19.99
Hardcover;
ISBN- 13: 978-01370-22076
Contact:
Mark Fortier
Fortier Public Relations
212-675-6460
mark (at) fortierpr.com
###