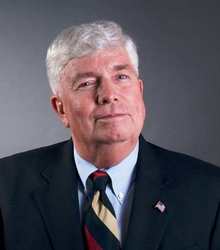 MSSC is a nationally recognized certification program that allows students interested in manufacturing careers to be credentialed in four critical skill areas
St. Charles, IL (PRWEB) January 10, 2009
Ron Bullock, Chairman of the Board of the Illinois Manufacturers' Association will be a featured panelist at ProMat 2009, the premier event for material handling and logistics buyers from more than 90 countries. Bullock will be featured in a panel discussion concerning workforce development needs in the manufacturing sector. The panel is scheduled on Wednesday morning, January 14, beginning at 8:45 am at McCormick Place South in Chicago.
"Ron Bullock is to be commended for his pursuit of excellence in bringing together the manufacturing and education communities for the benefit of Illinois children," said Gregory W. Baise, President and CEO of the Illinois Manufacturers' Association. "Contributions such as these demonstrate the conviction manufacturers have to improve Illinois as a great place to live and work."
Bullock, who is Chairman and owner of St. Charles-based Bison Gear & Engineering Corp., is widely recognized as a national leader in developing innovative programs to develop the U.S. manufacturing workforce. Most recently, Bullock helped launch the Manufacturing Skill Standards Credential (MSSC) in Illinois, a program that offers students access to a "jump start" into a career in manufacturing.
"MSSC is a nationally recognized certification program that allows students interested in manufacturing careers to be credentialed in four critical skill areas," said Bullock. "MSSC can offer full credit opportunities through a state's community college system or through a non-credit online version, although individuals can later claim credit hours through a participating educational institution. Moreover, MSSC credentials are portable nationally allowing workers to assure potential manufacturing employers that they possess the skills necessary to be successful in a wide array of environments."
Programs like MSSC are considered critical to the manufacturing sector. Experts say that in Illinois alone, more than 30,000 new manufacturing workers will be needed each year for the next ten years to replace the retiring baby-boomer generation. Manufacturers say that preparing workers through innovative programs like MSSC helps to assure Illinois will continue as a world-class manufacturing leader.
For more information on MSSC, their website can be found at http://www.msscusa.org.
Since 1893 the mission of the Illinois Manufacturers' Association, the oldest and largest state manufacturers' association in the U.S., has been to strengthen the economic, social, environmental and governmental conditions solely for manufacturing and allied enterprises in Illinois to enlarge the business base and increase employment opportunities. For further IMA information, contact Jim Nelson, Vice President of Communications and Marketing, Illinois Manufacturers' Association, phone 800-875-4462 ext. 3023.
About Bison Gear & Engineering Corp.
Founded in 1960, Bison Gear & Engineering Corp. designs and manufactures fractional horsepower electric motors, gearmotors and gear reducers used in industrial and commercial OEM applications worldwide. Bison's strong engineering tradition, based on Robusticity (TM) principles, offers products with up to twice as much torque in the same package size as competitors. Bison employs over 270 associates in its St. Charles, Illinois facility which produces gearmotors and reducers in parallel shaft and right angle configurations, as well as AC and DC electric motors, for applications where dependability and long lifetimes are important.
###