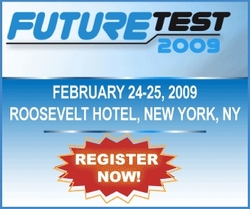 We are dedicated to providing forums for the exchange of knowledge, insights, and resources to professional communities. FutureTest is one of our premier platforms for this knowledge sharing between software test and QA executives
Melville, N.Y. (PRWEB) January 12, 2009
FutureTest 2009: Rise to the Challenge, the premier event for senior software executives and testing/QA management, will be held at the Roosevelt Hotel in New York, NY on February 24th and 25th. The executive conference offers participants an unparalleled opportunity to learn, discuss, and network with their peers and to share their latest strategies and best practices.
FutureTest 2009 will feature 15 thought-provoking sessions led by software executives from the world's leading companies, as well as popular authors and industry experts. Featured speakers will include Jeff Johnson, author, GUI Bloopers 2.0; Jinesh Varia, technology evangelist, Amazon.com; James Apple, senior technical manager, Bank of America; Jaswinder Hayre, program manager, application security, HBO; Ryan Townsend, lead security engineer, Time Inc.; Dorelle Rabinowitz, Design Systems Group, eBay; Doron Reuveni, CEO and co-founder, uTest; Paco Hope, technical manager, Cigital; Judy McKay, author, Managing the Test People; Robert Sabourin, president, AmiBug.com, and Kristopher Schultz, Resource Interactive.
With the theme of "Rise to the Challenge," FutureTest participants will explore such hot topics and emerging issues as cloud computing and crowdsourcing and their relevance to software testing and QA. In addition, participants will discuss best practices for web interface enhancement, rich Internet application (RIA)-based site testing and deployment, how to deploy a software development lifecycle approach (SDLC) to ensure application security, and new strategies and approaches to improve the efficiency of testing projects and teams.
FutureTest 2009: Rise to the Challenge will also feature the first FutureTest Challenge awards competition. All software testing professionals are invited to submit their solutions to interesting or humorous testing or management problems. Stories must involve software testing, test management or requirements gathering, and include creative solutions. Entries will be judged on creativity, level of difficulty, and humor. All qualified entries will be published on STPCollaborative.com. Some entries will also be published in Software Test & Performance magazine. The top Challenge winners will be recognized and honored at FutureTest, and will have the opportunity to present their solutions in a panel discussion. More detail and a link to the online entry form and contest rules are available at http://www.futuretest.net/challenge/. The deadline for entries is February 2, 2009.
"We are dedicated to providing forums for the exchange of knowledge, insights, and resources to professional communities. FutureTest is one of our premier platforms for this knowledge sharing between software test and QA executives," said Andrew Muns, president and CEO, Redwood Collaborative Media. "Attendees of FutureTest '09 will stay abreast of the latest trends and best practices, hear from the greatest minds in the industry, and share knowledge, wisdom, and great ideas they can implement immediately."
"Software test and QA professionals are being asked to accomplish more with less, to improve their team's processes, to become faster, more efficient, more productive, more competitive, and to contribute to a significant positive impact to the bottom line," said Eddie Correia. "FutureTest 2009 will help attendees to successfully meet these challenges and focus on how to better address the challenging times ahead."
FutureTest 2009 is presented by Redwood Collaborative Media and sponsored by HP Software and IBM. For more information and to register, visit http://www.futuretest.net. Credentialed media and analysts can request press passes by contacting Donna Esposito at [email protected] or +1 415.785.3419.
About the Software Test & Performance Collaborative
The Software Test & Performance Collaborative serves the global software testing and performance community, reaching more than 55,000 IT professionals through a suite of products that provide information, education, training, and professional networking opportunities. Software Test & Performance is a Redwood Collaborative Media community dedicated to providing a highly interactive, dynamic platform for sharing knowledge, insights, and resources, and for building deep relationships among industry peers. For more information, visit http://www.stpcollaborative.com
About Redwood Collaborative Media
Redwood Collaborative Media creates highly interactive, integrated, and dynamic platforms for sharing knowledge, insights, and resources, and is dedicated to building deep relationships for professional communities. The company's mission is to empower these communities through high quality information, education and training, and targeted online and face-to-face networking opportunities.
###