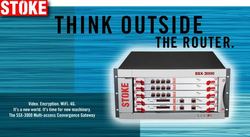 It is a pleasure to announce Stoke as a Red Herring Top 100 Global Company
Santa Clara, Calif. (PRWEB) January 20, 2009
Mobile broadband gateway developer Stoke Stoke today announced that it has been named as one of the Red Herring Top 100 Global Companies.
Red Herring Top 100 Global Companies are chosen from winners and finalists of the previous North America, Europe and Asia Red Herring Top 100 Companies. Winning and finalist companies from the previous three years were eligible for this outstanding award. Out of 1,800 successful and highly eligible companies, the Red Herring editorial team deployed a detailed process to drill down the best companies first to 200 finalists, then to the top 100 winners of this global award. Evaluations were made on both quantitative and qualitative criteria, such as financial performance, innovation, management, global strategy, and ecosystem integration. The announcement of the winners was made at the Red Herring 100 Global taking place in San Diego from January 14-16, 2009. Present at the event were executives and venture capital leaders from around the world.
Vikash Varma, chief executive officer at Stoke, commented, "Stoke has been at the leading edge of developing next generation edge gateway products for the Mobile Broadband markets. The award recognizes our unique ability to play a critical role in extending the life of current 3G mobile networks. Our creative 3G Internet offload solutions and our ability to anchor mobility between networks like 3G, Wi-Fi and WiMax have become increasingly relevant to the mobile broadband carriers. We are seeing a significant growth in our business in the international carrier market as a result of the economic downturn. We welcome this important endorsement of our progress in this market."
Stoke provides mobile broadband offload, coverage, and interworking solutions including the Stoke Session Exchange gateway, enabling operators to improve service delivery economics, service coverage and subscriber satisfaction. During 2008 Stoke re-crafted its corporate direction to focus on addressing strategic issues in the mobile broadband industry, specifically the need to extend the capabilities of existing networks to meet surging demand for mobile data and reduce cost per session, without requiring major infrastructure upgrades. This has resulted in a sharp uptick in Stoke momentum in the second half of 2008.
"It is a pleasure to announce Stoke as a Red Herring Top 100 Global Company," commented Red Herring publisher Alex Vieux. "Stoke has proven to be a company excelling in their industry and its ripples have turned into waves. It was difficult for us to narrow down, but Stoke is a great fit in our list of promising companies. We look forward to the changes it makes to its industry in the future."
About Red Herring
Red Herring is a global media company, which unites the world's best high technology innovators, venture investors and business decision makers in a variety of forums: a leading innovation magazine, an online daily technology news service, technology newsletters and major events for technology leaders around the globe. Red Herring provides an insider's access to the global innovation economy, featuring unparalleled insights on the emerging technologies driving the economy. More information about Red Herring is available on the Internet at http://www.redherring.com.
About Stoke, Inc.
Based in Santa Clara, Calif., Stoke develops carrier-class mobile broadband gateways specifically engineered to enable mobile and converged network operators to maximize the economic returns of their 3G mobile networks. Stoke's standards-based, integrated hardware and software platform - the Stoke Session Exchange (SSX) - uniquely addresses the data traffic management and cross-access mobility challenges associated with optimizing multimedia sessions for existing 3G mobile customers, and for emerging 4G mobile networks including WiMAX and LTE. Stoke has received more than $60 million in funding from leading venture capital firms Kleiner Perkins Caufield & Byers, Sequoia Capital, DAG Ventures and Reliance among others. For more information, visit Stoke
# # #