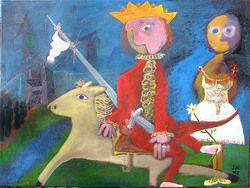 The gallery has an amazing curator and a special, thoughtful, clientele - people that I have met now who are serious collectors with a real love and sophisticated appreciation of modern art
Maplewood, NJ (PRWEB) January 13, 2009
Beginning January 1, 2009 the artist, John Nadon, is now represented by the Amsterdam Whitney Gallery in New York City. Amsterdam Whitney Gallery Curator and Executive Director, Ruthie Tucker requested John Nadon to submit examples in late October 2008 for review. In December 2009 she presented an offer of representation as well as an offer of an early 2009 exhibition of Nadon's works.
"It meant a great deal to me just to be asked to have my works reviewed, especially by a well known gallery", said the artist John Nadon. "But, it meant more to me than I can express when I had the interview with Ruthie. She is so insightful and so truly supportive. Her request at the end of our interview to have me exhibit my works in the Amsterdam Whitney Gallery, and most importantly to me, be represented by her personally, meant more to me than I can explain in words".
While Nadon started painting in the 1970's, selling his artwork on the streets of Hollywood and Santa Monica to get the money needed for college, his career in theater design, changing later to architectural lighting and product design, left no time for painting pieces for sale. While he did paintings for his own enjoyment, and for friends and business associates when requested, his career work kept him from serious painting for about thirty years. A combination of events came into play in 2002. Nadon's wife, showing him closets full of paintings he'd done stored at their home convinced him to stry and sell some on e-bay to make room - in fact, with nearly all selling quickly. Second, after brain surgery and time away from work, she bought him new paint, brushes, canvases and boards, encouraging him to try working seriously. These new paintings not only also selling regularly in local galleries and on the internet, but these sales followed by a major home developer retaining John to do paintings for their model homes, his getting a request for use of a painting of his for a book cover in Europe, and his receiving recognition in Europe with publishing of his works and awards.
"I never really expected the impact of the internet in our world to affect the selling of my paintings", John noted. "I have been really surprised by the diversity of sales types, the sales of pieces to people not just outside of Maplewood, but outside the United States, and most surprising the active use by serious collectors of the internet". John has had multiple purchases of his artworks by individual buyers. "The first time one person bought four of my paintings I was just surprised", he noted. "The second time forced me to recognize that there maybe was something in my work that people found meaningful".
2008 has been an exciting and productive year for John Nadon's work as an artist. His work will be included in the prestigious Dizionario Enciclopdeidico Internazionale d'Arte Moderna e Contemporanea 2009. He accepted an invitation to be included in the first edition of Art Advocate magazine in 2008. He has been selected for inclusion in the Galeria Zero "Behind the Forms" collective show in London in 2009. In addition he has been accepted for the Bienalle Internazionale Dell'Arte Contemporanea in Firenze, Italy in December 2009. John has been notified the awarding by Alba Network in Italy of the "Premio Alba 2009" medal and diploma along with publishing of his work.
"While I am sincerely moved by the notice my works have received recently, nothing means as much to me personally, perhaps professionally, as the decision by Ruthie Tucker at Amsterdam Whitney Gallery to represent me and my works to their clientele", Nadon noted. "The gallery has an amazing curator and a special, thoughtful, clientele - people that I have met now who are serious collectors with a real love and sophisticated appreciation of modern art".
The Amsterdam Whitney Gallery will be exhibiting paintings by artist John Nadon from February 6 to March 10, 2009. The gallery is located at 511 West 25th Street, Chelsea, New York City, NY 10001. Curator Ruthie Tucker can be reached at 212.255.9050 for information regarding the Gala Champagne Opening Reception on February 12, 2009.
John Nadon, besides working on art and the management of his own companies, is currently working as the Business Development Manager of the Jesco Lighting Group. Jesco Lighting Group is a rapidly growing manufacturer in New York of residential and commercial lighting products. He is also currently working on their Jesco LED Lighting Solutions business, developing advanced technology LED lighting products.
John, as a practicing artist, is selling his artworks regularly on the internet, in galleries, and through interior design studios.
John co-owns with his wife, Lurdes Nadon, e-ArtNow, the electronic sales division of Navy Blue, Inc. - Modern Art Investing at Art Now, a New Jersey company. Lurdes Nadon co-owns with John the graphic design studio Design by Design LLC.
Navy Blue, Inc.
629 Ridgewood Road
Maplewood, NJ 07040
http://www.e-artnow.com and Artworks Collected by e-ArtNow
Artist John Nadon's Works
973-313-9509
Amsterdam Whitney Gallery
511 West 25th Street, Chelsea
New York, NY 10001
ph: 212.255.9050
Amsterdam Whitney Gallery