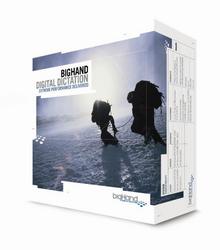 London, UK (PRWEB) January 13, 2009
BigHand, the market leading developer of digital dictation workflow systems for professional services firms, has today announced that pensions administrator firm A J Bell has improved document turnaround times, enabled efficient remote working and improved client service as a direct result of implementing the BigHand Digital Dictation system. Prior to the implementation of BigHand, the leading SIPP and SSAS administrators were using analogue tape dictation equipment, causing lengthy delays in document creation and a negative impact on client service. In today's economic climate, professional services firms are implementing BigHand to improve efficiency, remove costly overheads and strengthen their competitive advantage. A J Bell initially looked at both BigHand and nFlow and decided BigHand were able to guarantee and improve efficiency gains whilst offering a far greater value for money digital dictation solution.
Jonathan Poon, System Administrator at A J Bell comments:
"Given the volume of work the firm undertakes, it was imperative that we provide our Directors with greater flexibility and remote working tools to increase productivity when working from a number of different sites. BigHand technology has allowed them to send dictations from their portable dictation devices back to their secretaries for immediate transcription. In addition, our fee earners can now record and submit dictations to their secretaries from anywhere in the world, with just a click of a button.
Even when there is an increase in workload, secretaries are easily able to share their work taking full advantage of any pockets in available resource, by forwarding on dictations to other secretaries in order to spread out workload, Document turnaround times have therefore decreased and more importantly our client service has improved.''
Using analogue tape cassettes, fee earners working remotely were forced to return to the office to hand a tape to their secretary for transcription. In addition, the physical nature of a tape cassette meant that dictations were often recorded over or tapes lost altogether. The firm found the inherent delays and cost of tape dictation highly restrictive, and was concerned that the continued use of tapes would negatively impact profitability and levels of client service.
The BigHand Digital Dictation workflow system has enabled fee earners to dictate anywhere in the world and instantly submit dictations back to the office for immediate transcription, preventing unnecessary backlogs and delays in document creation. The firm quickly realised a return on it's investment as it no longer has to purchase expensive tapes and tape dictation sets, and through the provision of efficient mobile working, has saved both travel and postage costs.
About BigHand
BigHand is based out of Chicago, London, Sydney and Toronto. BigHand is the leading digital dictation vendor in the global professional services sector. BigHand3 was awarded 'Best of Breed System of the Year' at the Legal Technology Awards for 2008, and BigHand Mobile (BlackBerry Edition) was voted 'Mobile Product of the Year' at the CNET Business Technology Awards 2008. BigHand has also been nominated in the Sixth Annual Law Technology News (LTN) Awards for 2009 as 'Dictation System of the Year' and 'Mobile Tool of the Year'. Further information is available at http://www.bighand.com
###