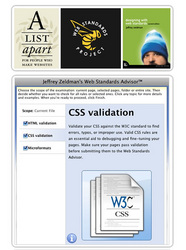 But it's also surprisingly useful for the advanced coder. I found mistakes in my own website, and in code by other web standards gurus. It really works.
San Diego, CA (PRWEB) January 13, 2009
WebAssist today announced the release of Jeffrey Zeldman's Web Standards Advisor, a tool to help web designers reap the benefits of web standard compliant sites. Built in collaboration with Jeffrey Zeldman, the leading authority on web standards, this Adobe Dreamweaver extension includes full HTML and CSS validation as well as checks a wide range of web standard issues.
As Zeldman points out in his best selling book, Designing with Web Standards, website developers and owners enjoy a hefty return on investment when creating compliant sites. Web standard sites download faster and result in real bandwidth cost savings. Moreover, such a site is easier to modify: changing the look-and-feel of an entire web standards compliant site can literally take minutes to effect versus days of effort otherwise. Additionally, web standards compliant site are far more flexible than non-standard ones. The content in a web standards-based site can quickly be repurposed from the desktop browser to hard-copy print output to a mobile device.
With a complex series of rules and recommendations, implementing a web standards compliant website is a challenge for even the most seasoned web professional. Jeffrey Zeldman's Web Standards Advisor meets that challenge head-on with a two-pronged approach. First, the Web Validator sends web pages directly to the W3C HTML and CSS validators to make sure the basics of web design are covered. Designers can validate everything from a single page to a full web site in a single operation. An emerging technology, microformats, are also validated. Any errors found are reported both in an interactive fashion that allows direct access to the offending code and in a fully, print-friendly report.
After the validation has been completed, designers can check for web standards compliance in nine different areas, including:

Structural integrity - Heading tags should be used hierarchically to be most effective particularly when crawled by search engines. The Web Standards Advisor verifies that a heading 2 tag does not appear before a heading 1 tag.
Structural labeling - CSS selectors should be named by function and not their appearance or position. Class names like blue_box and bigRightSection are flagged to be renamed properly.
Proper classes - The use of the same class repeatedly in a single section of a web page is known as "classitis", which can really clutter up the code. The Web Standards Advisor identifies cases of classitis and shows how they can be cured.
After working with the product, Jeffrey Zeldman said, "The Web Standards Advisor is great for the designer who is climbing aboard the web standards train, and needs hands-on help understanding the principles of structured, semantic markup." He continued, "But it's also surprisingly useful for the advanced coder. I found mistakes in my own website, and in code by other web standards gurus. It really works."
Joseph Lowery, Vice President of Product Management, responded, "We're honored to work with Jeffrey and bring the Web Standards Advisor to life. We hope it proves to be a major step forward for the web standards movement and helps all web designers--beginner and pro alike -- to create faster, more flexible site efficiently. On top of being a major productity boost, Web Standards Advisor is a great learning aid with the explanations and suggestions from Jeffrey built right into the product."
Web Standards Advisor is compatible with Dreamweaver CS4, Dreamweaver CS3, and Dreamweaver 8 on both Windows and Macintosh platforms. Web Standards Advisor retails for $49.99 or, as an upgrade for Web Designer Suite and Super Suite owners, for $34.99, directly from WebAssist.
For more information, please visit http://www.webassist.com/go/webstandards/.
About WebAssist.com Corporation:
WebAssist creates market-leading extensions (software add-ons) for the Adobe and Microsoft platforms to help Web designers build better websites, faster. WebAssist.com hosts a self-service developer community with over 200,000 members registered. WebAssist's partners include Adobe, PayPal, AOL, Yahoo!, Google, and Affinity. For more information, please visit http://www.webassist.com.
Press Contact:
Michael Lekse,
Vice President of Sales and Marketing
+1 800-886-0130 x111
+1 858-768-6600 x111
mlekse (at) webassist.com
WebAssist.com Corporation
http://www.webassist.com
###