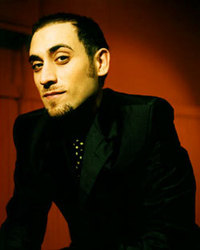 OMGGG! MARCO! Thank You soooo much!!!!! You don't know how happy I am. When I heard
New York, NY (PRWEB) January 13, 2009
Children's Illusionist Marco Frezza embarks on a World tour to award three lucky children with a live Magical performance. 12 months ago, Marco challenged children around the world to watch his 52 Webisodes of Magic on YouTube and decode the secret order of a deck of playing cards.
Within minutes of the final Webisode airing, e-mails from children around the World poured into Marco's inbox. Moments later Marco had three winners. The lucky children will now enjoy an all expense paid appearance by Marco to their hometown. Upon arrival Marco will present each child with a Book of Secrets, Magic lessons, and a live Magical Performance for their friends and family members.
When asked about the world wide response to his Webisodes, Marco said, "It's been an extraordinary Web-Series. Over 1/2 million participated and children tuned in from virtually every country in the world to become part of this interactive Magic contest."
The three winners were announced publicly at http://www.marcofrezza.com via YouTube video. The winners are: 3rd Place, to Daniel Hart of Everman, Texas; 2nd Place goes to Sania Mirza of Ontario, Canada; and Grand Prize is awarded to Jako Jogi of Kuressaare, Estonia.
When Jako Jogi, age12, learned that he was a winner, he immediately responded on Marco's Blog: "YAY!! You can't belive how happy I am. Oh my god. I won!!! I'm the gentlemen. No way. Yayyyy!!!"
Sania Mirza, age 13, was as equally enthusiastic "OMGGG! MARCO! Thank You soooo much!!!!! You don't know how happy I am. When I heard "From Ontario Canada" I knew it was me! Thank youuu ! I told all my friends and family and they are sooo happy!"
Marco is now feverishly planning his itinerary to travel to each child's hometown to award them personally and meet local media.
About Marco:
NYC Based, Marco is the Founder and the Producer of Marco Frezza Productions Inc. Marco blew the minds of millions in 2004 when he drove across America blindfolded in 7 days to help raise awareness for National Foster Care Month. This publicity stunt alone generated over a $1,000,000 of publicity for children in Foster Care. When he's not performing interactive Magic on YouTube, Marco Frezza teaches and performs magic for children at corporate events and private parties around the World.
Contact:
For information about the contest, bookings, or to schedule an interview, call Marco at (888) 883-8814.
To view all 52 Webisodes in their entirety or learn more about the contest visit http://www.marcofrezza.com/.
# # #