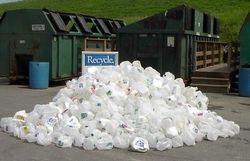 We need to provide quality recycled products at or below the same cost as the original and with over 800 milk jugs going into each Rain BarrelZ®, we can all do our part to protect the environment
Leominster, MA (Vocus) January 13, 2009
Going Green, the Smartware Product line is now manufacturing and distributing the Rain BarrelZ® water recovery kit. What sets this item apart from others is the use of recycled raw material in its production to produce a pleasant, aesthetic looking and fully functional product.
"We need to provide quality recycled products at or below the same cost as the original and with over 800 milk jugs going into each Rain BarrelZ®, we can all do our part to protect the environment" said Mark Gasbarro, president of F&M Tool and Plastics.
This product line has a purpose and more importantly a great impact on our Green challenge to reduce waste and wisely use our planet's resources.
The Rain BarrelZ® weighs in at 35 lbs. And stands 33 inches tall. The oak grain design will not rot or mildew. No worry of pest infestation and the raised feet prevent staining to your cement or deck. The raised brass spigot prevents hose crimping for easy watering.
This new Rain BarrelZ® will collect up to 48 gallons of rain water through a screened cover inlet, preventing any debris from entering the collection. The barrel comes as an easy to assemble unit that reduces packaging material and shipping cost thereby further enhancing the "Green" philosophy.
Water your lawn for free.
Reduce landfill materials.
Save precious dollars on water/sewer bills.
Reduce water run off and top soil loss.
Improve plant growth.
The Smartware Products line, produced by F&M Tool and Plastics, Inc. is a resourceful GREEN solutions company that produces and distributes American made planters, whiskey barrels and landscape timbers.
F&M Tool and Plastics, Inc., family owned and operated, has been in the industry for 35 years and continues to provide exceptional and state of the art Quality, Service and Price.
F&M Tool and Plastics is located at 163 Pioneer Drive, in Leominster, MA. 01453 and can be reached by phone at 800 883 1673.
Links: http://www.fmtool.com http://www.smartwareproducts.com http://www.petwaresplus.com
###