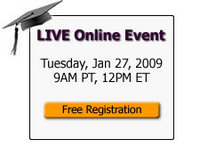 classes are certainly never dull!
Scotts Valley, California (PRWEB) January 14, 2009
On Tuesday, January 27th at noon Eastern, Market Motive certification students will put their skills on display during a live faculty panel review. This free online event is open to the public and will feature the Market Motive Dream Team playing the part of review panel as they quiz and critique the prospective program graduates about their final projects. Select event attendees will have the opportunity of getting a site or campaign review from the certification finalists.
Each Market Motive certification candidate creates a final project for their selected course. Courses are available in web analytics, search engine optimization (SEO), online publicity, or search engine marketing (SEM). Final projects involve applying what was learned during the virtual classroom testing and written portions of the course. For instance, SEO students create a well-optimized website and online publicity students create optimized and measurable public relations campaigns. Students will defend the choices they made in their project execution during the live panel review.
"With this crew it is bound to be entertaining," quips certification student Jennifer Day, "classes are certainly never dull!" For those in the website optimization industry, members of the Market Motive Dream Team are "household names" known for their conference presentation skills and widely-read blogs.
But it isn't just about entertainment. This innovative event provides the public an opportunity to get a glimpse into the Market Motive certification process as well as to learn from the critiques and quizzes of the Dream Team and the answers of the finalists. Anyone can register for free at http://www.marketmotive.com/master-certification-graduation-jdc.php Companies interested in a site or campaign assessment simply need to mention it in their registration.
About Market Motive
Market Motive provides internet marketing certification and training, weekly workshops and direct anytime-Q&A with the top six internet marketing consultants. Perfect for marketing teams, consultants and web site owners, members get cutting-edge advice, training and authoritative answers from the recognized authorities for online marketing. The company also provides consulting services to select clients. Market Motive was founded in 2007 by John Marshall, Michael Stebbins and Avinash Kaushik and is based in Scotts Valley, California. For more information, visit http://www.marketmotive.com or call (831) 706-2369.
###