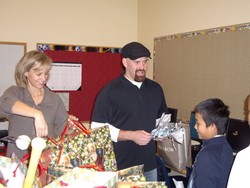 The kids were so excited to have a chance to meet Kevin Youkilis
Boston (PRWEB) January 13, 2009
Hollister, Inc. Founder and CEO Kip Hollister joined Boston Red Sox First Baseman Kevin Youkilis last week to deliver toys to Nativity Preparatory School, a private, independent, tuition-free Jesuit middle school in the Jamaica Plain for economically disadvantaged middle school boys from Boston's inner city.
"The kids were so excited to have a chance to meet Kevin Youkilis," said Hollister. "We are thrilled to have the opportunity to work with Kevin Youkilis and his Hits for Kids organization to help support great schools & children's programs like Nativity Prep and the Italian Home for Children."
On Monday, January 5th, Youkilis & Hollister met with students at Nativity Prep and gave each of the students gifts collected by Hollister's Philanthropy Committee. Later in the afternoon, Youkilis delivered toys to children at the Italian Home for Children; a home for severely abused, neglected, and emotionally disturbed children in Jamaica Plain.
The Hollister Philanthropy Committee, which is comprised of consultants, directors and support staff, collected over 250 toys from clients, candidates and Hollister staff members for children at Nativity Prep & the Italian Home for Children. The Hollister Philanthropy Committee is part of the Hollister Cares program. Each quarter, the group focuses on a specific philanthropic initiative. They work together in an effort to bring the Hollister culture into the community where they can make a difference as a team.
It is the second year that Hollister has worked with Kevin Youkilis and his charity Kevin Youkilis Hits for Kids to collect toys for underprivileged kids.
About Hollister
Founded in 1988, Hollister is a leading full-service Boston staffing agency passionate about connecting Massachusetts' opportunity with talent. Based and home-grown in the Greater Boston region, Hollister is well positioned to see the Massachusetts job market from both sides. They essentially have two sets of clientele that they show up for every day- Massachusetts companies and its active and passive jobseeker. For 20 years, Hollister has been the bridge that connects professionals with jobs in Massachusetts and companies with the best employees. Whether you are searching for Massachusetts jobs or to hire your next best employee, they are the network you are looking for.
About Kevin Youkilis Hits for Kids
Kevin Youkilis Hits for Kids is a charitable organization founded by Boston Red Sox first baseman Kevin Youkilis, dedicated to rallying local and corporate support for charities and organizations focused on the health and wellbeing of children. Kevin Youkilis Hits for Kids teams up with existing community-based children's charities and medical research programs in New England, to help them raise money and awareness.
To learn more about Kevin Youkilis Hits for Kids, or to make a donation, please visit http://www.youkskids.org
###