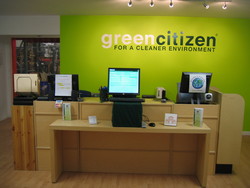 San Francisco, CA (PRWEB) January 14, 2009
GreenCitizen™ Launches New Center Just In Time To Help Recycle Analog Signal TVs Before The All Digital Signal Conversion in San Francisco Bay Area, San Francisco, California - January 13, 2009
GreenCitizen Inc. an environmentally responsible electronic waste recycling company announced last week despite the economic downturn that it is expanding to open up more Eco-Centers. The latest GreenCitizen center opened last week in Burlingame, CA just in time for the analog to digital TV conversion. The Burlingame Eco-Center is the third GreenCitizen drop-off location in the bay area following their Los Altos, CA and San Francisco, CA locations.
GreenCitizen provides its customers with a convenient, accountable and safe way to recycle their electronics. If you are looking for a way to get rid of that old TV GreenCitizen is your solution. With all GreenCitizen Eco-Centers open 7 days a week, free parking and staff to help you unload your equipment, doing the right thing with your e-waste couldn't be easier.
"With the conversion to all digital TV broadcasting and the great value of new LCD TVs, many consumers are switching out their old analog signal TVs. We want to make sure we are open 7 days a week to help San Francisco Bay Area residences and businesses recycle their old TVs and other electronics responsibly. We will not be charging anyone to drop-off and recycle their old TV at any of our three locations, no handling fee, no charge; all sizes welcome," said James Kao, GreenCitizen's Founder and CEO.
"The majority of electronic waste recycling companies do not properly recycle their electronics. Instead they ship toxic e-waste overseas to developing countries where it is often just dumped. The 4 to 8 lbs of lead in a typical TV can contaminate the soil and water sources in the U.S. or in developing countries, where it can cause serious environmental pollution and health impacts. We provide a convenient, safe and accountable way for people to responsibly recycle their TV's at no charge."
"The City of Burlingame warmly welcomes GreenCitizen to Burlingame. GreenCitizen is an example of a company striving to be both a good citizen of the world and profitable. It looks like they are being successful at both goals. We look forward to watching them grow here in Burlingame," said Mayor Ann Keighran of the city of Burlingame.
GreenCitizen offers a variety of convenient customer services, including seven days a week drop-off recycling at its San Francisco, Burlingame, and, Silicon Valley Centers, business pick-up service, and data security services such as hard disk destruction and cell phone erasure. Items accepted include computers, monitors, printers, televisions, cell phones, printer cartridges, batteries, CD's, and more. For more information on items accepted and any fees please see http://www.greencitizen.com
To ensure safe disposal, equipment recycled through GreenCitizen will be sent only to de-manufacturers and processors who recycle it according to industry best practices, who are signatories of the Basel Action Network Electronic Recycler's Pledge of True Stewardship, and who share GreenCitizen's commitment to responsible recycling.
GreenCitizen's unique asset tracking system provides accountability for the safe recycling of toxic materials found in electronic equipment. Both a unique GreenCitizen ID number and the original manufacturer serial number catalogue each major item received at a GreenCitizen center. This allows the tracking of each item through all stages of the shipping, sorting and de-manufacturing process. The data gathered can serve as an "environmental scorecard" to help government agencies, corporations, OEMs, retailers and environmental groups measure recycling efforts in quantitative terms.
About GreenCitizen:
GreenCitizen provides convenient, accountable, and safe solutions that make it easy for individuals and business to recycle electronics responsibly- helping to save the environment from harmful electronic waste. GreenCitizen's eco centers in San Francisco, Burlingame, and Los Altos, provide visits, lectures, community programs, and website informing people about the issues of electronic waste and the importance of responsible recycling. For more information, visit http://www.greencitizen.com, email [email protected] or call 650.493.8700 x701.
###