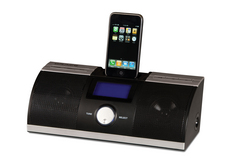 Since all of our solutions are based on the 802.11 Wi-Fi standard, you can seamlessly add a Grace radio to every room in your home.
San Diego, CA (PRWEB) January 14, 2009
Grace Digital Inc., a leading manufacturer of networked audio and analog to digital consumer electronics, announces its 2nd generation of internet radios and audio network media streamers.
Grace Digital follows up the success of its industry leading ITC-IR1000B internet radio with the launch of a new family of wired (Ethernet) and wireless (Wi-Fi) internet radios and network media adapters. "By providing a complete family of networked audio solutions, Grace Digital is able to provide consumers with the product that fits their specific needs. Whether it is an Internet clock radio for the bedroom or a high powered crystal clear wireless network audio streamer, we have a device that works best for their particular needs and application", according to Greg Fadul, CMO at Grace Digital. "Since all of our solutions are based on the 802.11 Wi-Fi standard, you can seamlessly add a Grace radio to every room in your home."
Grace Digital's new lineup will be available February 2009 and will range in price from $149.99 to $349.99. Each form factor is optimized for a specific application and room of your home. Some of the highlighted products are:

GDI-IR1000: Is the next generation of our award winning ITC-IR1000B. The GDI-IR1000 provides the same high quality wood cabinet while improving your audio experience by adding personalized bass and treble settings and 10 front panel presets.
GDI-IR2000: Provides the same features as the GDI-IR1000 but includes a remote control and auxiliary input for playback of any iPod, MP3 player or audio source.
GDI-IRP600: Another first from Grace Digital is the industry's 1st sub $200 portable battery or AC powered Wi-Fi internet radio for a true cordless experience. The GDI-IRP600 provides up to 14 hours of battery life from 6 AA batteries.
GDI-IR3020 (pictured) Internet clock radio with iPod dock with stereo speakers, 99 preset remote and headset jack. The radio supports both wired Ethernet and Wi-Fi link and provides RCA line out for connection to a stereo receiver.
GDI-IR3000: Provides all the same great features as the IR3020 without the iPod dock.
In addition to the wide assortment of devices, Grace Digital offers the largest selection of radio stations with over 15,000 stations worldwide. We also provide key content that set us apart from competitors 'me too' devices such as:
Add your favorite station: We can play your favorite home town radio station regardless of the city or country. Simply log on to our web site, add the information of your favorite station: sports, news, podcast or music and within 48 hours any station with a reliable audio stream will be added to our database and streamed to your radio.
Personalized content: We currently provide Pandora for the over 18 million people who love the Pandora service on their computer or iPhone. So you are no longer required to sit next to your computer, or even have your computer on to experience Pandora. Listen, Create, or interact with the Pandora music system from any Grace Digital radio.
Major Networks: We play all your major networks including the BBC, NPR, CBS radio, NPC, ESPN,CNBC, FOX NEWS, ABC NEWS, CNET etc.
HDiRadio: For Crystal clear sound and no audio drop outs listen to an array of HD RadioTM stations on your internet radio via your home broadband network.
Sirius Internet Radio: Enjoy your Sirius stations in your car,now listen to it in any room of your house without having to install a Sirius Satellite dish. Learn more about Sirius Internet Radio.
Grace Digital Radios are available at all Best Buy locations, Fry's Electronics, J&R Music and London Drugs. Additionally, Online merchants include Frontgate, Target.com, Walmart.com, Circuit City, Amazon.com, Buy.com, and Home Depot.
About Grace Digital
Grace Digital is a leading manufacturer of networked audio and Analog to Digital consumer electronics under its family of brands; including Lars & Ivan branded high performance audio systems, Victoria nostalgic recordable turntables and telephones, Xlink Bluetooth cellular gateways, SBC branded telephony solutions, and Grace Digital Audio line of wireless and wired multi-room and outdoor audio systems. Based in San Diego, California, Grace Digital sells its products through select dealers and distributors throughout North America.
HD RadioTM is proprietary trademark of iBiquity Digital Corp.
###