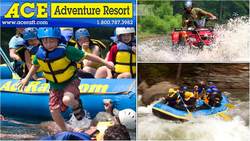 The outdoors is really a great way to connect
Oak Hill, WV (Vocus) January 13, 2009
The travel industry is bracing for big changes in 2009 and, for families, it may be the year to re-explore outdoor activities as the focus of the "Great American Family Vacation."
"The outdoors is really a great way to connect," said Shannon Lane Hurst, a blogger at TravelingMamas.com "It helps families bond." The travel industry is bracing for big changes in 2009 and, for families, it may be the year to re-explore the outdoor activities as the focus of the "great American family vacation."
Hurst said families will be "getting back to basics" by de-stressing and unplugging on trips this year. She predicted the popularity of one-on-one parent and child outings in addition to multi-generational jaunts that include the whole clan.
Travel writer Eileen Ogintz, at TakingTheKids.com, notes that despite depressing economic news, more than 80 percent of respondents to a Trip Advisor survey said they planned to travel over the holidays. Ogintz expected the trend to continue into the New Year.
"I think 2009 would be a great time to get outdoors with the kids," Ogintz said. "Families can save on money, but do something healthy — and something they might not have done before."
National Parks are always popular outdoor destinations, according to the travel experts, but unless gas prices remain low, many families may be reluctant to wander too far from home. West Virginia's ACE Adventure Resort, within a few hours' drive of nearly every major mid-Atlantic city, is working to inform the trip planner at home about the outdoor adventures and lodging packages when it comes time to book the family vacation.
"We're really proud of being able to offer something for everyone in the family," said Beth Gill, ACE marketing director. "We've made it easy and attractive for families to load up the car and come down for a weekend, a week, even two weeks of fun."
Another travel trend is emerging, as well: Agencies and tour providers are seeing an explosion in online research and booking. Gill said ACE Adventure Resort is betting on its newly re-designed website, http://www.aceraft.com , to capture some of that interest. The site features high-definition videos of adventure activities such as whitewater rafting, rock climbing and ATV trail riding and vivid photography of lodging options, along with other engaging content.
"Sure, it might be a little ironic that people are spending more time online so they can spend more time outdoors," Gill said. "But with a little research, travelers benefit from better deals and knowing they'll get exactly the vacation they're after. And that's what we're offering."
Gill added that ACE, the largest outfitter in West Virginia, will regularly update the http://www.aceraft.com site throughout the year. She said ACE is making the website a "bookmarked" stop for users by continually offering news and resources in an entertaining way — a modern, digital version of the local expression, "Y'all come back now."
###