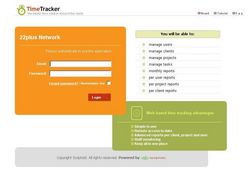 (PRWEB) January 15, 2009
Today 22Plus Network s.r.l. released the new version of time tracking software.
It's time tracking software solution for companies or individuals that need to keep track of time spent on projects and clients.
Basic features includes: managing teams, clients, projects and reports. After installing on company's server or intranet it can be used from a browser.
This timekeeping software helps individuals and companies to track of time spend for different projects and/or clients. Using only a browser it is possible to
manage the attendance sheets for a team, manage projects and also clients.
There are 3 simple ways to fill the time sheets: punch in/punch out, time intervals and time span:

Punch in/punch out offers a start and stop option for an user, a time tracking session is started by pressing start and stopped by pressing stop. It basically functions as a time clock software.
Time intervals are present for tasks that can not be tracked by a start/stop action (ex: being away from a PC).
Time span is perfect for activities for which the precise time span is now known but only the total allocated time.
Two ways of seeing the data is present: daily and monthly.Daily view shows the attendance sheets for a day while a monthly view show in detail time spent in a month.
Reports are available per project, client or team member. Also advanced reports are present. For project you can add tasks so you further detail the reports that will be run later. Clients management offers the possibility to have accurate report for time spent with a client. Managing users is very simple and also different rights can be assigned to an user.
Security is present by tracking the location of the users that are in the system. Also a new plugin -- named Punchy -- can be installed on the user's PC and offers the option of making screen captures of user's desktop. This is very handy for remote operators.
Time-Tracking.us offers a handy, cheap and smart way to avoid using old attendance sheets.
About 22plus Network s.r.l.:
22plus was founded in 2004 and it main field is core programming.
The company is headquarted in Iasi, Romania (UE).
The brand Scriptoid offers software products to automate businesses. More information about the products can are available at http://scriptoid.com
More information about company are available at http://22plus.net
Alex Gheorghiu
22plus Network s.r.l
24th Pacurari Street,
Bl.1, Sc.B, dial 02
Iasi, Romania
Postal Code: 700511
Phone number: +40 332 107 623
###