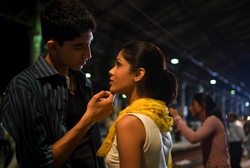 In the readers' choice segment of the MAE Awards, popularity counts. So, if readers are passionate about a particular nominee, they are encouraged to post comments in support of their positions
New York, NY (PRWEB) January 14, 2009
On Monday, MOSAEC.com (MOSAEC) announced nominations for the readers' choice segment of its annual awards. In its second year, the MAE Awards were created to spotlight some of the best in arts and entertainment. Awards are given in two categories - Artistic and Entertaining - with the former category being similar to traditional "best of" honors. MOSAEC's Entertaining awards vary from year-to-year.
2009 marks the first time that readers will have their say in whom and what walk away with honors as the majority of the awards will be determined by the public with the remaining determined by a jury. To begin voting, click here or visit http://my.mosaec.com/page/mae-awards .
HBO led all nominations with 17, with The Wire receiving 6 nods for its final season: one for Best Television Drama; one for Dominic West as Best Actor and two each in the Supporting Actress and Actor categories for Felicia "Snoop" Pearson, Sonja Sohn, Michael Kenneth Williams and Tristan Wilds. Wilds also received a nomination in the Best Young Actor/Actress (Under 21) category for his performance in The Secret Life of Bees.
Fox Searchlight scored big in the film categories, garnering 16 nominations across a number of its films, including Bees, The Wrestler, Under the Same Moon and Slumdog Millionaire.
While the critical fave Slumdog received multiple nods, another Indian film - Before the Rains - also merited a few nominations for its director Santosh Sivan, lead actress Nandita Das and the film generally.
"MOSAEC's nominating committee made an extra effort to ensure that films released throughout the year were considered for recognition and not only the award contenders released at the end of the year," said MOSAEC's Marona Lowe.
"As a result, the nominations recognize an eclectic mix of films, including Roadside's animated doc - Chicago 10; Miramax's The Boy in the Striped Pajamas and Magnet Releasing's vampire tale - Let the Right One In," Lowe added.
In addition to the traditional "best of" honors, readers are asked to vote in Entertaining categories such as the Best Sports Moment in which Michael Phelps' historic Olympic feat vies with Tiger Woods' wounded knee victory at the US Open.
"In the readers' choice segment of the MAE Awards, popularity counts. So, if readers are passionate about a particular nominee, they are encouraged to post comments in support of their positions," said Ms. Lowe.
Registration is not required to vote, but voters must register to post a comment. Write-in candidates are allowed in most categories. Online voting ends January 26, 2009 at 11:59 pm, Pacific Standard Time. The award winners will be announced January 31, 2009.
To supplement its internet campaign, over the next couple of weeks, MOSAEC will dispatch a grassroots marketing team across New York City and to U.S. Presidential inaugural activities to encourage voter participation in its annual awards.
"Hopefully, these online and offline efforts will have the added result of generating interest in some of the nominated films with smaller budgets; many of which are available on DVD through online vendors," said Lowe.
ABOUT THE MOSAEC ARTISTICALLY ENTERTAINING AWARDS:
The MOSAEC Artistically Entertaining Awards are announced in January of each year. Entertainment products released from January 1 through December 31 of the previous year are eligible for awards. There are two classifications of awards: "Artistic" and "Entertaining." Each of the awards in the "Artistic" category is presented annually to entertainment that is viewed as the "Best of" in traditional award categories. The "Entertaining" Awards categories are subject to change each year, depending on entertainment released during the year. In addition, MOSAEC will occasionally announce AE Redux awards in the various categories for entertainment products that were released in prior years that warrant special reconsideration.
ABOUT MOSAEC:
Launched in 1999, MOSAEC is an online destination for those seeking fresh, irreverent and witty perspectives on things artistic, entertaining, and cultural. In addition to reviews, feature articles and forums, the site includes streaming media tidbits from personalities discussing their work. MOSAEC.com is based in New York City.
###