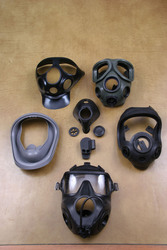 Our existing Gas Mask component customers have given us extremely high marks for our close attention to the stringent quality standards required for these critical Molded Components
Boston, MA (PRWEB) January 15, 2009
Ames Corporation, a leading manufacturer of high-quality elastomeric coatings, moldings, and insert molded components, announces the recent award of a new Gas Mask component molding contract, resulting in the creation of 30 manufacturing and operations jobs at the company's Hamburg, New Jersey facility. Ames was selected for the project based on its thirteen years of experience in providing similar Molded Components to a number of Gas Mask manufacturers throughout the world. With the contract win, Ames is able to hire new employees in order to expedite the design and production of the Molded Components, a testament not only to the quality of Ames' products and solutions, but also of the company's exciting growth.
"Our existing Gas Mask component customers have given us extremely high marks for our close attention to the stringent quality standards required for these critical Molded Components," says Chuck Roberts, president and C.E.O. "These relations have allowed Ames to manufacture and deliver millions of parts with zero defects and with a very high on-time delivery record. Ames' Gas Mask components have attained an impeccable record for precision, reliability, impermeability, longevity, and durability, and allows the Company to capitalize on its Polymer Solutions offering."
This renowned performance and customer endorsement in the Polymer Solutions marker was instrumental in the selection of Ames as the new supplier for Gas Mask components. Included in the new contract are face blanks, second skins, nose cups, sipper tubes, and outlet valves. These components comprise the basic structure for gas masks, also known as Respiratory Protective Devices, and are utilized by military, security and industrial organizations. All of Ames' gas masks are designed to meet critical military specifications for chemical, heat and biological resistance.
With the new contract, Ames had the opportunity to fill several positions at its facility, and the company's recent growth is a positive sign of things to come, as Ames continues to provide Polymer Solutions for companies in a wide variety of markets. "We have already been successful in filling several of the molding press operator, trimmer, and packer positions for both the day and evening shifts, but we certainly have more positions to fill," added Roberts. "This project involves significant capitol investment in new machinery, which will be installed over the next few weeks with parts due to ship at the end of this month."
About Ames
For nearly 60 years Ames has been a leading supplier to international, high-tech customers who require finished elastomeric coatings, moldings, insert molding components, and other parts that meet high-quality standards. As one of the very few companies to win the Malcolm Baldrige National Quality Award for business excellence, Ames is ISO 9000-2000 registered, practices Six Sigma and Lean Manufacturing, and is well known for its exceptional attention to process quality control. For additional information about Ames or the solutions they offer, please visit http://www.amescorporation.com, or call (973) 827-9101.
###