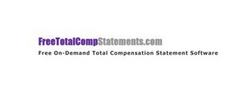 Surveys show that employees value their benefits as much as their direct pay, so companies need to communicate the full value of the benefits package
Rocklin, CA (PRWEB) January 14, 2009
Total Rewards Software, Inc. announced that the 1,000th employer has registered to use its free, on-demand total compensation statement software. FreeTotalCompStatements.com is the only software in the marketplace that produces professional, total compensation statements quickly, easily and at no cost.
The free statement service empowers employers to produce personalized, total compensation reports for each employee 24 hours a day, seven days a week, and from any location. Employers only need an Internet connection and web browser to get started - there is no software to install.
"Surveys show that employees value their benefits as much as their direct pay, so companies need to communicate the full value of the benefits package," said Char Ruppel, vice president of business development at Total Rewards Software. "Many companies have been tasked with producing statements in 2009, but due to this challenging economy, HR budgets have been reduced or even frozen. So our free software helps companies meet their goal without any capital outlay."
Also known as employee benefit statements, these reports show employees the value of their employer-sponsored benefit programs and the impact that value has on their total compensation.
"I have ABRA for my HRIS and in order to get compensation statements I have to either pay a programmer or learn to put together a complicated Crystal Report," explained Sandra Rowden, HR Manager at Anderson & Kriger in San Diego, Calif. "As a result, compensation statements have not been a big priority...but thanks to Free Total Comp Statements, now our employees will be getting a statement next week. This program gives us cover letter examples, disclaimer examples, a colored pie chart, and an Excel spreadsheet all ready to go. We only have to populate it with our numbers. The customer service was excellent and I was up and running in no time."
Clients using the software range across all industries, including retail, manufacturing, construction, non-profit, education, banking, insurance, professional services and technology.
About FreeTotalCompStatements.com
FreeTotalCompStatements.com is a service operated by Total Rewards Software, Inc., a private company founded by business and technology professionals with a mission to deliver high quality, cost-effective, total compensation software solutions to the millions of small and medium sized employers in North America.
Media Contact:
Ray O'Donnell, Total Rewards Software, Inc.
(916) 632-1000, x202
This press release was distributed through eMediawire by Human Resources Marketer (HR Marketer: http://www.HRmarketer.com) on behalf of the company listed above.
###