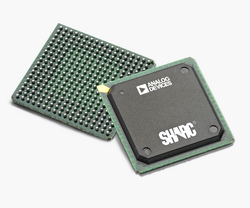 The Analog Devices SHARC family is the 'gold standard' for premium audio processing
Norwood, MA (PRWEB) January 14, 2009
Fujitsu Ten's premium audio amplifiers based on the Analog Devices floating point SHARC® DSP architecture enable a revolutionary automotive sound experience. This innovative technology researched and implemented by Fujitsu Ten called Acoustical Space Control Technology, not only greatly reduces vibration to the automobile chassis, but in addition compensates simultaneously for the acoustic reflective effects of the cabin glass and sonic absorption from upholstery. Furthermore, Acoustical Space Control Technology enhances and compensates for the acoustic limitations of loudspeakers such as frequency response and physical placement challenges in the cabin, resulting in a spatially enhanced audio experience.
Fujitsu Ten leveraged many years of Automotive Environmental and Acoustical research, culminating to the development of Acoustical Space Control Technology. Central to this innovative technology is the Analog Devices floating point ADSP-21364 SHARC processor. Two of these high performance processors are used to realize Fujitsu Ten's most advanced Automotive Acoustic Technology.
"The Analog Devices SHARC family is the 'gold standard' for premium audio processing," said Jerry McGuire, vice president General Purpose DSPs," We are very gratified to have Fujitsu Ten, an industry innovator, adopt our SHARC architectures to realize state-of-the-art Automotive Acoustical processing in their leading edge products."
"The automobile cabin is an extremely challenging acoustical environment, and our Acoustical Space Control Technology drives new levels of audio quality, with the Analog Devices SHARC processor acting as a key enabler of this breakthrough technology", said Shigeki Kato, Department General Manager, Acoustic R&D Dept., Audio Business Div., CI Group, Fujitsu Ten.
SHARC, Leading Floating Point Performance
The Analog Devices SHARC Floating Point DSP family excels in a broad range of industrial, scientific, medical and audio applications due to its architectural innovation and leadership performance. Based on a broad portfolio including high on-chip memory capacity, industry leading I/O throughput and packaging options for all system needs, the SHARC architecture is regarded in the audio community as the definitive premier platform for signal processing audio equipment from professional recording studios to concert halls, home systems and automobiles.
About Analog Devices
Innovation, performance, and excellence are the cultural pillars on which Analog Devices has built one of the longest standing, highest growth companies within the technology sector. Acknowledged industry-wide as the world leader in data conversion and signal conditioning technology, Analog Devices serves over 60,000 customers, representing virtually all types of electronic equipment. Celebrating 40 years as a leading global manufacturer of high-performance integrated circuits used in analog and digital signal processing applications, Analog Devices is headquartered in Norwood, Massachusetts, with design and manufacturing facilities throughout the world. Analog Devices' common stock is listed on the New York Stock Exchange under the ticker "ADI" and is included in the S&P 500 Index.
SHARC is a registered trademark of Analog Devices, Inc. All other trademarks included herein are the property of their respective owners.
# # #