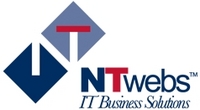 Companies with five to 50 desktop computers usually rely on part time technicians to keep their computer environment running
Boca Raton, FL (PRWEB) January 15, 2009
As cash flow challenges and credit squeezes spread throughout the economy, small and medium-sized businesses wonder how to skimp on their IT budget. An enterprise level outsourcing IT model designed specifically for their needs by the Boca Raton-based company NTWebs, South Florida organizations can now sustainably slash IT budgets up to 50 percent while receiving improved network maintenance, support and security.
"Companies with five to 50 desktop computers usually rely on part time technicians to keep their computer environment running," says Paul George, founder of NTWebs, Inc. "But that leaves them vulnerable to unpredictable expenses from outside consultants and at high risk of significant downtime from problems their technicians can't handle. Companies with 50 to 200 desktops tend to have an in-house IT department, but at a painfully high cost. Our innovative outsourcing IT model enables both small and medium-sized companies to have a smoothly running, secure and highly stable technology infrastructure for a fixed monthly cost of 30-50 percent less than what they were probably paying."
Before founding NTWebs, Inc. in 2001, Paul George was one of Microsoft's top trainers, working with organizations that included American Express, the Royal Caribbean Cruise Line, the City of Boca Raton and Bank of America. His experience with large companies helped him envision an affordable way to bring Fortune 500-level IT Management dependability and expertise to small and medium-sized businesses.
Owners and executives of small and medium sized business can call 561-922-5600 for a free, no-obligation evaluation and quote. Full details on this outsourcing IT arrangement can be found at http://www.NTWebs.com
###