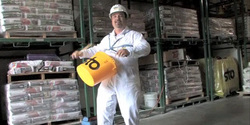 but to also have people contacting us from outside the industry who were just as eager to enter.
Atlanta, Georgia (PRWEB) January 18, 2009
They kept the beat - now it's time to take a bow.
Last spring, the distributors and customers of wall cladding and coatings manufacturer Sto Corp. were asked to take part in an online competition based upon the street-performance percussion art known as bucket drumming. The contest was conceived and coordinated by Atlanta-based B2B marketing firm MLT Creative.
All that was asked from contestants was a little creativity, a minor amount of musical aptitude and a few of those big yellow buckets for which Sto has come to be recognized by construction crews worldwide. Participants were also instructed to immortalize their efforts in viral video form, via YouTube.
"We liked the idea of having an entertaining competition built around our iconic yellow bucket," said Sto studio manager Billy Rosbottom. "It was a great way to have some fun with our distributors, highlight our brand and beat our own drum, so to speak."
And thanks to the efforts of MLT Creative to get the word out, the contest generated an immense online response. Over the next few months, a slew of entries were uploaded - some from as far away as Germany and the United Kingdom. Practiced percussionists and eager amateurs alike answered the call.
The three-person judging panel painstakingly selected the top entries in four categories: solo, ensemble, drumline and children, basing their picks on criteria such as creativity, technical skill, musicality and showmanship.
The winners:

Solo: Matt Lawler of Building Restoration Products; Roswell, Georgia
Ensemble: Building Restoration Products; Roswell, Georgia
Drumline: Matt Dye of Stucco Outlet Supplies (SOS); Orlando, Florida
Children: Chip Blome of Nexgen Building Supply; Cincinnati, Ohio
The judges also bestowed International Honorable Mentions on two overseas entries:

StoMan Group c/o Bjoern Buehler, of Sto AG, Sto Corp.'s Germany-based parent company
Sto Gorilla Advert c/o Denise Freeman, of Sto Ltd., a subsidiary in England
The staff of MLT Creative was elated by the international response which, according to account executive Sarah Young, was completely unexpected. Young was especially impressed by the "Gorilla Advert," a parody of a popular Cadbury commercial.
"The gorilla suit video - some true 'guerrilla' marketing, eh? - was hilarious," she said. "It was submitted by one of the Sto subsidiaries in the UK. I especially liked how the song they used is 'In the Air Tonight,' which is well-known for a mean drum breakdown. It was very clever."
Perhaps even more eye-opening than the overseas entries were those submitted by total outsiders - talented drummers who had just happened to stumble upon the contest's Web site.
"It was really exciting that we had such a great response from not only the Sto distributors and the Sto international groups," Young said, "but to also have people contacting us from outside the industry who were just as eager to enter."
One such group, she added, went as far as to make their own Sto buckets -- using regular white buckets and markers - after not being able to find any in their area, just so they could have a shot in the contest.
Impressed by their determination, the judges opted to give special recognition to three entries that, while not affiliated with a Sto distributorship, displayed an extraordinary level of talent. They were each given a Special Recognition for Outstanding Talent:

Drumline: Sto Boyz Drumline, Pariah Marching Percussion Theatre, c/o Tim Marshall; Ball Ground, GA
Drumline: Drummers with Attitude (DWA) c/o Kevin Travers; Levittown, PA
Ensemble: Ian Erickson and Josh West; Branson, MO
In addition to rewarding the winners, Sto Corp. will donate $1,500 to Habitat for Humanity on behalf of the 2008 Sto Bucket Drumming Contest.
The winners can be viewed on the official bucket drumming contest page on YouTube: Sto Corp. Bucket Drumming Contest Winners.
Based on the success of this first-ever contest, MLT Creative would like to do it all again next year, this time with the competition open to an international audience.
"The contest definitely grew legs of its own online," Young said. "We hope to expand future contests and invite competition from around the world."
About MLT Creative and Sto Corp.
MLT Creative (http://www.mltcreative.com), based on the east side of Atlanta, GA, with a Northeast office in Rhode Island, was founded in 1984. Known as the idea launch pad™ for B2B marketers, MLT Creative's services include strategic planning, positioning, brand development, advertising and sales promotions.
Sto Corp. (http://www.stocorp.com) based in Atlanta, Georgia, is an innovative world leader and producer of a broad range of versatile cladding and coating systems for building construction, maintenance and restoration. Sto Corp. is ISO 9001 certified and operates production plants strategically located to serve more than 200 distributor shipping locations across North America. At research and development laboratories in the U.S. and Europe, Sto continues to revolutionize the industry with the highest quality products and application technology.
###