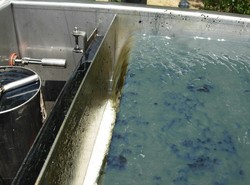 Torrance, CA (PRWEB) January 14, 2009
A technology introduced by Aqueous Recovery Resources, Inc. (ARR) of Bedford Hills, New York, reduces overall production costs by cutting down on industrial water use, enabling companies to operate more efficiently and environmentally conscious at the same time.
The water footprint of a business is based on the amount of 'direct' water used for production, manufacturing and supporting activities and 'indirect' water used in the supply chain. With the U.S. corporate water footprint among the highest in the world, investments in water conservation technology leading to a reduced water footprint are gaining in popularity among industry leaders.
At the annual Corporate Water Footprint Summit USA (this year, February 26-27, 2009, in Miami), top corporate producers across the country will gather to analyze the commercial viability of investing in water consumption measurement and reduction strategies. A main topic of discussion of how and why companies have invested in a reduced water footprint will enable industries to move in the same direction and benchmark operations against counterparts in their particular sector.
To address these increasing global concerns of sustainable industrial water use, ARR has introduced the Suparator® which utilizes a unique technology to separate process oils and other liquid contaminants along with suspended solids.
This dynamic separation technology removes contaminants and achieves perfect separation of any two fluids with a specific gravity differential. It also enables reuse of most recovered contaminants. The separation is about water, not oil. Essentially, process water must be cleaned from the oil so it can be reused.
The key to the Suparator® technology is a unique three-step separation process: collection, concentration and separation utilizing the pressure differential generated by Bernoulli's principal. This innovative process separates even the smallest traces of oil without a drop of water. This oil is concentrated to force process water and chemicals out and build an oil layer. Dry oil is then separated and removed. No consumables (absorbents, coalescing media, absorbing filter bags, etc.) are required thereby reducing costs even further.
By removing trace oil without removing water, ARR inhibits the formation of rag layers and resulting separator blow-through. The process automatically responds to fluctuations in oil loading and requires no electricity. It is a simple reliable system that effectively and economically adds valuable functionality to gravity separation and coalescing as it preserves a dwindling natural resource.
While the EPA requires industries to return water back to its original state by removing oils, soaps and chemicals, traditional methods of such a process can be costly. Alternatively, the ARR technology provides a viable means for companies to minimize their impact on an already limited fresh water supply by continuously reusing the original water volume. At the same time it shifts the focus to cradle-to-cradle water resource design, creating sustainable industrial water use.
For more information, contact Kim Kaplan at Aqueous Recovery Resources, Inc. (ARR), 300 Adams Street, Bedford Hill, NY 10507; Phone: (914) 241-2827; Fax: (914) 242-7346; email: info (at) suparator.com; or visit the web site: http://www.suparator.com.
###