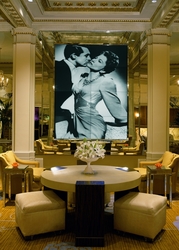 We have worked tirelessly on service and consistency and this award is very gratifying for us
Portland, Ore. (PRWEB) January 15, 2009
Conde Nast Traveler's Gold List is based on data collected from the annual Reader's Choice Awards that have been further honed to find the absolute World's Best Places To Stay and the Hotel deLuxe in Portland, Ore., is fortunate to be named to this list for the second year running.
"We have worked tirelessly on service and consistency and this award is very gratifying for us," said Howard Jacobs, chief operating officer of Provenance Hotels. "We will continue to dedicate our efforts to high standards and live up to this acknowledgement."
Not yet three years old, the Hotel deLuxe is making a name for itself locally, nationally and regionally with its integrated art direction of the Golden Era of Hollywood Film. This small Portland boutique hotel is elegant and cosmopolitan yet friendly and unpretentious. A dedicated clientele of business and leisure travelers call the hotel home when they visit Portland.
The Hotel deLuxe is known for its close proximity to the Pearl District, Nob Hill neighborhood and the downtown core, as well as its reputation for the highest customer service and its focus on Hollywood film, elegant design and luxury.
About Hotel deLuxe
Like its sister hotel in Portland, Ore., Hotel Lucia (Travel Leisure's Top 500 Hotels in the World and Conde Nast Traveler's World's Best Hotels)] and its brother hotel in Seattle, Wash., the Hotel Max, the Hotel deLuxe is unique in Portland with its film-inspired design and magnified focus on personal guest services. For more information, please contact Dina Nishioka for details at 503.295.2122 x223. Also, visit http://www.hoteldeluxe.com for updates.
###