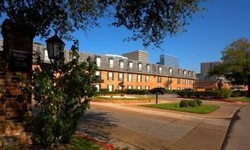 Westcreek at River Oaks is located on some of the priciest dirt in the Galleria area
Houston, TX (Vocus) January 14, 2009
Capmark Finance Inc. (Capmark Finance) originated $27,500,000 in floating-rate debt through its Freddie Mac program for the refinance of Westcreek at River Oaks, a multifamily property in Houston, Texas. The 75 percent LTV loan features a seven-year term with a 30-year amortization.
Located on nearly 14.5 acres at 2049 Westcreek St., Westcreek at River Oaks includes 574 units (629,538 square feet). The property is 96 percent occupied.
Vice President Matt Greer of Capmark's Austin, Texas office originated the transaction for borrower Houston-Westcreek Partners LP, an affiliate of Cypress Real Estate Investors, L.P.
"Westcreek at River Oaks is located on some of the priciest dirt in the Galleria area," Greer said.
"As such, the sponsors wanted the ability to exit the loan in the event economic conditions warranted a different use for the site. Freddie Mac's floating-rate product provided everything on the borrower's wish list: declining prepayment penalty, low short-term rates, and the ability to pull out proceeds based on the value they have created."
Property photos available upon request.
About Capmark®:
Capmark is a diversified company that provides a broad range of financial services to investors in commercial real estate-related assets. Capmark has three core businesses: lending and mortgage banking, investments and funds management, and loan servicing. Capmark operates in North America, Europe and Asia.
Capmark Finance Inc., the U.S. real estate lending and mortgage banking operations of Capmark, has access to multiple capital sources and offers a full range of financing solutions and resources. Capmark Finance is a direct lender, a correspondent for insurance companies, pension funds and other capital markets conduits and one of the leading approved lenders for Fannie Mae, Freddie Mac and HUD/FHA.
With a servicing portfolio of approximately $363.2 billion as of Sept. 30, 2008 Capmark Finance is one of the industry's leading loan servicers.
Capmark Investments LP, the investments and funds management operation of Capmark, is an established manager of equity real estate and mortgage-related investments in the public and private markets with approximately $9.8 billion in investments under management as of Sept. 30, 2008.
For more information about Capmark, visit http://www.capmark.com.
Capmark Finance Licenses: CA: CA Dept of Corporations Finance Lender and Broker License (lending) and CA Dept of Real Estate, Real Estate Broker License #00398180 (brokering); MI: Capmark Finance Inc., Michigan Real Estate Broker, Phone 248-208-3460; NV: Capmark Finance Inc., 200 S. Virginia St., Suite 800-Office #804, Reno, NV, Phone 775-686-2490; NY: Capmark Finance Inc., New York Real Estate Broker.
©2009 Capmark Financial Group Inc. All rights reserved.
###