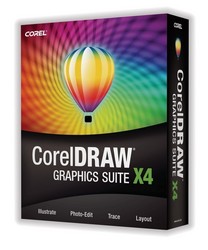 Our CorelDRAW user community is a highly valued source of ongoing feedback and inspiration and we are pleased to deliver an update that addresses their top requests
Ottawa, ON (PRWEB) January 15, 2009
Corel Corporation (NASDAQ: CREL; TSX: CRE) today released a new service pack for the award-winning CorelDRAW® Graphics Suite X4. Reflecting the top requests from the CorelDRAW user community, the service pack includes expanded RAW camera support capabilities (including support for Nikon D90 and Canon EOS 1000D/50D), improved Drop Shadows functionality, and enhanced visual feedback for specific suite functions.
"Our CorelDRAW user community is a highly valued source of ongoing feedback and inspiration and we are pleased to deliver an update that addresses their top requests," said Gerard Metrailler, Senior Director of Product Management, Graphics for Corel. "Our community site, CorelDRAW.com, is a meeting place where CorelDRAW users from around the world can interact together, exchange ideas, and communicate directly with Corel's development and product management teams, and continues to experience steady growth, month after month."
Since its inception in June 2007, CorelDRAW.com has been a meeting place for CorelDRAW Graphics Suite users who are passionate about their work and are eager to interact with other users. The site has attracted more than 1.2 million unique visitors from over 220 countries and now has more than 20,000 registered members. In response to community feedback, the site recently added a new wiki engine, enhanced image galleries and forums, and new friends and conversations tools. To learn more about the CorelDRAW community, please visit http://www.coreldraw.com.
The new service pack for CorelDRAW Graphics Suite X4 is available to current users in all languages through the auto-update mechanism in the welcome screen which shows up when users open any of the applications). The service pack can also be downloaded from http://www.corel.com/support. For more information about CorelDRAW Graphics Suite X4, visit http://www.corel.com/coreldraw.
About Corel
Corel is one of the world's top software companies with more than 100 million active users in over 75 countries. We develop software that helps people express their ideas and share their stories in more exciting, creative and persuasive ways. Through the years we've built a reputation for delivering innovative, trusted products that are easy to learn and use, helping people achieve new levels of productivity. The industry has responded with hundreds of awards for software innovation, design and value.
Our award-winning product portfolio includes some of the world's most widely recognized and popular software brands, including CorelDRAW® Graphics Suite, Corel® Painter™, Corel DESIGNER® Technical Suite, Corel® Paint Shop Pro® Photo, VideoStudio®, WinDVD®, Corel® WordPerfect® Office and WinZip®. Our global headquarters are in Ottawa, Canada, with major offices in the United States, United Kingdom, Germany, China, Taiwan and Japan.
© 2009 Corel Corporation. All rights reserved. Corel, CorelDRAW, Painter, WordPerfect, and the Corel logo are trademarks or registered trademarks of Corel Corporation and/or its subsidiaries. All other product names and any registered and unregistered trademarks mentioned are used for identification purposes only and remain the exclusive property of their respective owners.
###