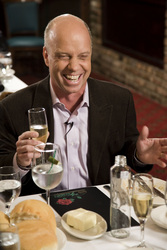 This is a reality series designed to celebrate the resiliency of the human spirit and mover, the special people in our lives who give of themselves unconditionally in our time of need.
Orlando, FL (PRWEB) January 16, 2009
Do you have someone in your life who's made a huge difference? Someone who helped you through a difficult time in your life?
Kelly Lang, Nashville songwriter and performer, the host of a new television show, Give a Living Rose, has had a person like that in her life. Boyfriend and internationally known Country Western singer TG Sheppard was the rock in Kelly's life when she suffered through breast cancer. Even as Kelly tried to push him away due to her illness, he refused to leave her side. They are now happily married.
In an episode of the show, Kelly surprises TG with a living rose to thank him for everything he had done for her. She also shares her story with the viewers in an episode that dares you to not to shed tears.
Use of a living rose as a way to show thanks is the brain child of series creator Monya Claborn. Claborn tells of how people leave cut roses on caskets after someone special passes. When she was helped through a hard time, she thought it would nice to give thanks while that person was still alive. A living rose symbolizes that never-dying thanks.
Monya and Kelly have had no problem finding other heart-warming stories to share. In fact, many of the stories feature popular personalities.
Gold medal Olympian and sports announcer Scott Hamilton gives thanks to his Olympic skating coach Don Laws. Laws thought the cameras were a part of a special about Hamilton. During a steak dinner, he was shocked to find out that the entire event was all about him.
Celebrities and every-day people are profiled. Country singer Vince Gill has his own story to share. The Governor of Tennessee and his wife also give thanks. Other profiled guests include Alabama football coach Nick Saban, Alabama coach Gene Stalling, and Roy Hallums. Hallums was buried alive in Iraq for 311 days and he gives thanks to the FBI agent who found him. There is also a story of a family whose dog was lost in Tennessee and was found by a veterinarian in Georgia.
Claborn came upon the idea of Give a Living Rose when she decided to put together a cookbook for her mother in her honor. Claborn gathered recipes from women her parents had met over the years. She was overwhelmed by the emotional responses about her mother which were returned with the recipes. When her mother was suffering from Alzheimer's disease, her entire family was touched by the letters and how much they meant to her mother during her lucid moments.
Seeing how such a gift can impact a family, Claborn wanted to share the feeling with others. "This is a reality series designed to celebrate the resiliency of the human spirit and mover, the special people in our lives who give of themselves unconditionally in our time of need."
When Claborn created her concept, she knew what she wanted her show to look like, but she had no experience, no idea where to take it or how to pitch it. Not wanting to make costly mistakes, she attended the Hit Makers Summit, a 3 day TV pitch crash course.
Mark & Jeanne Simon, the founders of http://www.SellYourTvConceptNow.com and hosts of the conference, worked with Claborn and all the participants one-on-one during the three days. "We immediately saw the potential in her show," says Mark Simon. "Monya had created a compelling story and by the end of our Summit she had a fantastic pitch."
The Simons encouraged her to pitch it immediately. The intensive event enervated Claborn who left the conference ready to pitch. Just one week after the Hit Makers Summit, Claborn sold her show to the president of BlueHighways TV, a national network. She was in production a week later. It was her first pitch.
"I am so glad I was able to meet the Simon's," says Claborn. "Thanks to them, we sold our TV show."
Give a Living Rose currently airs nationwide on the BlueHighways TV. You can find where you can see the show on their interactive website at http://www.GiveaLivingRose.com. Claborn adds, "Please visit our website and tell us your story."
Not all reality shows push the edge of taste and decency. Claborn has shown that a television show can be positive and entertaining.
SellYourTvConceptNow.com is the most comprehensive source for expert guidance and resources for those who are serious about selling their TV show ideas.
Contact:
Monya Claborn, Cornerstone Entertainment, LLC. 256-466-4115. monyaac at cornerstoneentertainment dot com
Jeanne Simon, SellYourTvConceptNow.com. 407-351-0893. jeannesimonwrites at yahoo dot com
Please check http://www.GiveaLivingRose.com for local listings and airtimes.
Attached:
Figure 01: Give a Living Rose logo
Figure 02: Host Kelly Lang and creator Monya Claborn
Figure 03: Creator Monya Claborn
Figure 04: Scott Hamilton reveal
Figure 05: Mark & Jeanne Simon, Claborn, Lang, Don Laws and Hamilton
###