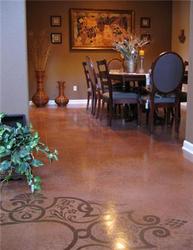 Yucaipa, CA (PRWEB) January 15, 2009
Though winter months can bring challenges to outdoor home improvement projects, there's no need to hold off on interior projects for the 2009 season. Through recent internet searches, stained concrete is proving to be the most sought after concrete technique for interior floor projects. Endless color options, customizable effects, affordable pricing and maintenance costs have made stained concrete the number one searched application on ConcreteNetwork.com.
These trendy floors have long been found in retail stores, restaurants, and offices, but now, they are increasingly being found in homes, as well. Located in one convenient location, ConcreteNetwork.com allows homeowners, builders and designers to find extensive information covering this application with its collection of detailed articles, comparison charts and photos submitted by industry professionals from around the country.
The growing appeal of stained concrete can be attributed to the fact that the process can produce unique outcomes through combining colors and application techniques on concrete floors. Stains can even be applied to most existing concrete, making it an ideal solution for revitalizing lackluster surfaces. Also, depending on the color and application techniques used, the results can mimic everything from polished marble to tanned leather to natural stone or even stained wood.
For a multitude of design ideas and coloring options browse through the site's interior concrete floors photo gallery filled with examples for enhancing your interior floors with simple to intricate stained concrete techniques.
Read more about concrete.
Established in 1999, The Concrete Network's purpose is to educate consumers, builders, and contractors on popular decorative techniques and applications. These include stamped concrete, stained concrete floors, concrete countertops, polished concrete, and much more. Over 10 million people visit ConcreteNetwork.com per year to research, get ideas and to find a contractor.
The site excels at connecting buyers with local contractors in their area through its Find a Concrete Contractor service. The service provides visitors with a list of decorative concrete contractors throughout the U.S. and Canada, and is fully searchable by more than 20 types of decorative concrete work in over 200 regional areas throughout North America.
Photos courtesy of The Concrete Colorist, Inc.
###