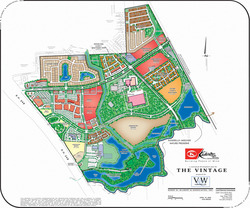 Our mission was to bring the developer, Commissioner Eversole and the community together in collaboration on a plan to secure a portion of land along SH 249 for use as a public park
Houston (PRWEB) January 15, 2009 -
Kickerillo and Mischer's V&W Partners, Ltd. announce today that Harris County Commissioners Court accepted the conveyance of an 81.80 acre park, including a 40 acre lake, from within V&W's 630-acre master planned mixed-use development known as The Vintage. The 81.80 acre property, located in Harris County Commissioner Jerry Eversole's Precinct 4, is adjacent to Cypress Creek and is the centerpiece of what will eventually be a 148-acre nature park called the Kickerillo-Mischer Preserve.
"We are always pleased to work with developers like V&W Partners and community groups who have a vision for creating parkland and whose work ultimately enhances the quality of life in the community," said Commissioner Jerry Eversole, Harris County Precinct 4.
After making the commitment to preserve the floodplain land located along the northeast side of Cypress Creek at State Highway 249, V&W brought together representatives from Commissioner Eversole's office, members of a community group called the Friends of the Kickerillo-Mischer Preserve and local landscape architect Clark Condon Associates to create a master plan for the park. The resulting plan won a "Best of the Best Award" from the Houston Galveston Area Council. The long-term master plan for the Preserve includes an education center, picnic areas, canoe docks and a system of trails which will allow access to natural areas within the Preserve and connections to surrounding neighborhoods. The Cypress Creek Greenway trail system, a proposed 50 mile regional trail system along Cypress Creek, will extend along the southern boundary of the Preserve and will ultimately connect the Preserve to a multitude of parks and neighborhoods.
"As longtime Houston real estate developers it is important to us to preserve the integrity and historical significance of a community. The land acquired for The Vintage offered us the opportunity to contribute a significant portion of the original tract to allow public access to a beautifully preserved environment," said Vincent Kickerillo, V&W Partners, Ltd.
The Friends of the Kickerillo-Mischer Preserve were instrumental in the project's success. "Our mission was to bring the developer, Commissioner Eversole and the community together in collaboration on a plan to secure a portion of land along SH 249 for use as a public park," said Linn Smyth, member of the Friends of the Kickerillo-Mischer Preserve. "The significance of the Preserve is that it maintains open spaces for the community to fish, hike, bike, birdwatch, canoe and simply enjoy the peacefulness of a natural setting."
According to records (Cypress Creek Flood Control Coalition, September 2005) the future nature park was part of the journey Sam Houston's army took across northwestern Harris County trailing Cypress Creek.
About the Vintage
The Vintage is a development by V&W Partners, Ltd., a partnership between local real estate development organizations Kickerillo Company and Mischer Investments (V for Vincent Kickerillo and W for Walter Mischer, Sr.). V&W acquired the 630-acre property from Hewlett-Packard in 2004/2005. The Vintage is one of Houston's most exciting master planned mixed-use developments in Houston's history. During the first two and a half years 84% of its land area has been committed to use inclusive of 380 acres of upscale projects which are now complete or under development.
The announced projects to date include Vintage Park, 537,000 square feet of retail/office space, over 1,600 upscale residences, a 123-room hotel as well as the St Luke's and Kelsey Seybold medical campus. For more information please visit http://www.TheVintageLifestyle.com.
About Kickerillo Companies
Kickerillo Companies is Houston's premier home-building and land development company, founded by Vincent Kickerillo on the principles of integrity, loyalty and skill. Kickerillo Companies has developed over 30 of Houston's most notable communities featuring not only high quality custom homes, but also a wide variety of shops, churches, schools, and recreational facilities. Kickerillo has had a profound impact on the growth of Houston and the trends of the upscale housing market. He shares his good fortune with his wife Mary and their daughter Kelli, who both hold prominent positions in the company.
For fifty years Kickerillo has built homes, developed land, owned banks and savings and loans, produced music and collaborated with the best companies. Currently, Kickerillo Company is building homes in six developments in the greater Houston area as well as investing in several commercial and retail developments, all reflecting a commitment to building peace of mind. For more information please visit http://www.kickerillo.com.
About Mischer Investments
During the past six decades, Walter Mischer, Sr. and his affiliated companies in banking, construction, homebuilding and master-planned community development played a vital role in the growth and prosperity of the Greater Houston Area, creating more than 125,000 home sites for almost a half-million people and developing more than 1,500,000 square feet of commercial and medical office space. Mr. Mischer's career was defined by shaping the communities of our region, and enriching lives in the process. That tradition lives on with Walter ("Walt") Mischer, Jr. and Paula Mischer, the next generation now leading the family business.
As the market has evolved, so has the focus of their investment and development activities. They have successfully transitioned from their roots in construction and banking to their focus today on real estate activities including master-planned communities, mixed-use urban core projects, and healthcare facilities. Their ability to directly provide significant amounts of equity capital, combined with their development and management expertise, provides a substantial competitive advantage that ensures success for their clients and partners. For more information please visit http://www.mischerinvestments.com.
###