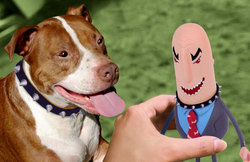 If you want a friend in Washington, get a dog!
Los Angeles, CA (PRWEB) January 15, 2009
Harry Truman might have said it, Bill Clinton did quote it and George Bush, Sr. said he didn't need the advice because he already had First Lady Barbara Bush but it simply goes like this; "If you want a friend in Washington, get a dog!" That bit of political wisdom has apparently not been lost on the Obama family as they hunt for the perfect hypoallergenic pooch to suit daughter Malia's dog allergy.
But even as the Obamas narrow the choices to labradoodles and Portuguese Water Hounds, a Southern California-based gift manufacturer, Billable Hours Unlimited, Ltd., would like to toss a breed definitely all their own into the mix for consideration as America's First Mutt - a small, hairless part-pit-bull-part-shark, remote-controlled DC lawyer (well, DC current, at least) toy named "My Pet Lawyer!" The company figures "why mess around with toy poodles when you can have a pet that's not only White House-broken but that's already been endorsed by the American Bar Association Journal as a 'must have toy' for the lawyer who has everything!"
Let's face it, folks, back in Bill Clinton's day it was "the economy, stupid" and it is again today so what could make more dollars and sense then a presidential pet who could also do double-duty (or dooty, as the case may be) as White House Co-Counsel with Greg Craig? Heck, "My Pet Lawyer" is already the "Editor's Pick" in the Special Inauguration Edition of "Where Washington" Magazine and "Tip of the Month" at the Washington D.C. edition of http://www.wheretraveler.com! With that kind of publicity, he could end up the first Attorney General in twenty years to not only get himself in the doghouse but who would actually enjoy living there!
While it's true that most of us will never get to personally press paws with a presidential pooch, if you're in the D.C. area, you're one lucky dog because you can meet "My Pet Lawyer" in person at the Chocolate Moose (1743 L Street NW)! Sure, "My Pet Lawyer" may never find himself curled up in front of a fireplace in the Oval Office, but fortunately for all of us the manufacturer has arranged for us to meet him with the click-of-a-mouse right now at http://www.mypetlawyer.com! He laughs and growls and his eyes and mouth will flash wildly while you listen to any of the nine prerecorded messages from "You talkin' to me, sharkbait?!" to "Pro Bono? Never heard of him!" The company says that when you adopt "My Pet Lawyer," you also get to personalize him by recording anything you want him to say (or even sing) at the push of a button! (Wow, where was he during the Nixon administration!?) You could even adopt a whole "firm" of Pet Lawyers and have them singing harmonies like the Supremes or better yet - like the Supreme Court!
When you think about it, "My Pet Lawyer" could forever change that old Truman quote to "If you want a friend in Washington, get a dog…but if you plan to work in Washington, get a pit bull who can take a deposition."
Five percent of the net profits from sales made directly through the http://www.mypetlawyer.com website will be donated to Voice for the Animals and used for the rescue and adoption of homeless pets.
###