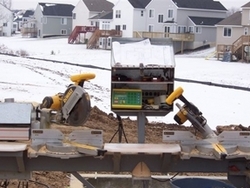 My productivity increased by more than 33% with TigerStop.
Vancouver, WA (PRWEB) January 16, 2009
One man shatters the 'Haste Makes Waste' myth and tells us what led to his quest and how he did it. "Hard to imagine a way to increase accuracy, speed up framing and use less labor, but it's been done. And it all started with a high school puzzle project." Read the case study on accurate, fast, and efficient cutting to find out how one framing contractor did it.
Learn how adapting a TigerStop for portable use, makes jobs go faster. And subcontractors and the primes have noticed the difference. That's a business builder.
When all the parts fit accurately the first time and every time, you can work faster, improve quality and finish ahead or schedule...leaving more time for bidding and beating the competition to the next job.
"My productivity increased by more than 33% with TigerStop." says Bill Karsten of Karsten Framing. He has been able to work alone and compete with framers using two or more employees for the last 6 of his 30 years in business. He's putting a lot more money in his pocket every day with his TigerStop.
An added benefit, material is used more wisely and efficiently, reducing your waste, getting accurate parts fast with each and every cut. Less waste means reduced environmental impact and higher profits for the framer.
Bill really does not want his competition to know about TigerStop. But, he is so excited about the results; he just can't stop talking about it!
A great place to see TigerStop and its innovative Framing solution in action is at the International Builders Show (IBS) in Las Vegas, NV on January 20-23, 2008. Come to booth # S8069 and see how TigerStop can be a benefit for you.
If you can't wait until then and want more information about TigerStop now, complete our TigerStop web form.
###