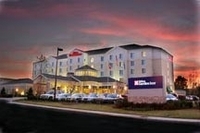 Hilton is excited to expand its presence in the dynamic Dulles market. When well-regarded hotel developer and local area resident Dave Pollin came to us with his vision to locate on the north side of the Dulles International Airport, right in the middle of one of the country's fastest growing and vibrant communities, we thought it would be a perfect fit
Dulles, VA (PRWEB) January 15, 2009 -
Hilton Hotels is excited to ring in the New Year with the opening of the Hilton Garden Inn Dulles North, located in Dulles/Ashburn, VA.
The Hilton Garden Inn Dulles North is owned by The Buccini/Pollin Group (Buccini/Pollin) and operated by PM Hospitality Strategies, Inc. (PMHS) under a license agreement with a wholly owned subsidiary of Hilton Hotels Corporation.
"Hilton is excited to expand its presence in the dynamic Dulles market. When well-regarded hotel developer and local area resident Dave Pollin came to us with his vision to locate on the north side of the Dulles International Airport, right in the middle of one of the country's fastest growing and vibrant communities, we thought it would be a perfect fit," said Adrian Kurre, Senior Vice President - Brand Management, Hilton Garden Inn.
"This is our fourth hotel in beautiful Loudoun County, and with the experience gained from our three preceding projects, we've made terrific enhancements that are sure to be appreciated within the community and among travelers. Like many frequent travelers, we hold the Hilton Garden Inn product in the highest regard. So much so, we couldn't resist adding more to this fine product from ballrooms and an outdoor patio for dining to an expanded lounge that features two 52" flat screen high definition TV's. Our lobby is sure to be a big hit -- especially on game days," said Dave Pollin.
This latest Hilton "family of brands" hotel opening represents another addition to a growing portfolio which now comprises more than 400 Hilton Garden Inn locations across North America and Europe.
About The Hilton Garden Inn Dulles North:
Located near the Washington Dulles International Airport, the Hilton Garden Inn is an upscale hotel ideally priced for the current economic situation. This 135-room property includes 4 Spa suites that feature two-person whirlpool spas, 4 one-bedroom Evolution suites, and 12 Junior Evolution suites. All guestrooms offer FREE wired and wireless high-speed Internet access complemented by remote printing capability directly from the guest's room or Blackberry into laser printers located inside the hotel's 24-hour business center. Via its proprietary Garden Sleep System bed, the hotel allows guests to adjust the firmness and softness of the bed to their own personal preference: Hilton Garden Inn is the only major hotel brand to offer this deep-sleep feature. Other valuable features inside the guest room include ergonomic Mirra® desk chairs by Herman Miller®; high-definition LCD televisions, and an innovative clock that allows guests to play their iPod, MP3, or portable CD player.
The Hilton Garden Inn Dulles North provides its travelers with the amenities and services to socialize eat well, stay fit and work smart. The Pavilion Pantry puts forward a selection of packaged items and sundries, and the Great American Grill restaurant presents cooked-to-order breakfast, dinner, and room service. Adjacent to the restaurant, the Loggia Bar & Lounge offers an outdoor patio along with a relaxation seating area with two HD LCD televisions featuring premium sports channels.
The Hilton Garden Inn Dulles North conference space totals 3,520 square-feet including a 2,200 square-foot ballroom with glass-enclosed foyer that provides patio access, a 400 square-foot breakout room and an executive board room. The ballroom is sub-divisible into three separate rooms and all of the hotel's flexible meeting space affords high-tech capabilities including FREE WiFi connectivity.
The hotel's recreational facilities include a workout facility featuring ultramodern Precor® cardiovascular equipment with built-in televisions and strength training equipment; Stay Fit Kits® that offer a selection of core, yoga, and pilates exercises that can be done in the privacy of the guestroom; and an indoor swimming pool and whirlpool adjacent to the fitness room. Finally, an on-site guest laundry facility is conveniently located on the first floor off the main lobby.
Adjacent to the Washington Dulles International Airport, the Hilton Garden Inn Dulles North is convenient to numerous corporate offices including Verizon, Airbus, Howard Hughes Medical Institute, AOL/Time Warner, Volkswagen, Equinix, Booze | Allen | Hamilton, and Orbital Sciences. Also nearby is The George Washington University Virginia Campus, George Mason University Loudoun, Patrick Henry College and Shenandoah University - Northern Virginia Campus.
Just 25 miles from Washington, DC at the foothills of the scenic Blue Ridge Mountains and its renowned Appalachian Trail, the Hilton Garden Inn is the perfect place to base for exploring the area. Hotel guests can experience Northern Virginia's culinary and heritage treasures with its gracious horse country, vineyards and spectacular vistas, scenic byways, and charming towns and villages steeped in history--like historic Leesburg's Civil War Battlefields, Middleburg, Manassas National Battlefield Park, and Harper's Ferry. Outdoor and sports-minded travelers will appreciate easy access to Redskins Park, the Ashburn Ice House, the Dulles Sportsplex, the Washington & Old Dominion Railroad Park featuring 45 miles of bike trails, the Morvan Park Equestrian Center, the Oatland Plantation, the Dodona Manor, the many golf courses of Northern Virginia, including the Belmont Golf Course and Raspberry Falls Hunt and Golf Club. Shoppers will want to take in Dulles Town Center, Downtown Leesburg, and the Leesburg Corner Premium Outlets. And if museums tickle your fancy, a short drive delivers you to the Smithsonian National Air & Space Museum - Udvar-Hazy Center, not to mention the multitude of museums, monuments, and memorials all around Washington, D.C. and its surrounding communities.
"Whether you're in the DC area for work or play, our Hilton Garden Inn Dulles North is the ideal location to access many nearby attractions and businesses," remarked Francis Ford, the Hotel's General Manager.
The Hilton Garden Inn Dulles North participates in Hilton HHonors®, the only guest rewards program that offers Points & Miles® and No Blackout Dates on rewards stays. Members of the Hilton HHonors guest reward program can Double Dip® to earn both points and miles for every stay at more than 3,000 Hilton Family hotels worldwide. Furthermore, with No Blackout Dates or capacity controls, as long as a standard room is available for purchase, members can redeem HHonors points for it.
The Hilton Garden Inn Dulles North is located off the Greenway Toll Road just south of Loudoun County Parkway with the address of 22400 Flagstaff Plaza, Ashburn, Virginia, 20148. For more information on the Hilton Garden Inn Dulles North, please call the hotel at 703.723.8989 or visit http://www.dullesnorth.hgi.com.
About Hilton Hotels Corporation:
Hilton Garden Inn is the award-winning mid-priced brand that represents one of the cornerstones of the Hilton franchise growth strategy. The Hilton Garden Inn brand is part of Hilton Hotels Corporation; recognized internationally as a preeminent hospitality company. The company develops, owns, manages or franchises more than 2,800 hotels, resorts and vacation ownership properties. Its portfolio includes many of the world's best known and most highly regarded hotel brands, including Hilton®, Conrad®, Doubletree®, Embassy Suites Hotels®, Hampton Inn®, Hampton Inn & Suites®, Hilton Garden Inn®, Hilton Grand VacationsTM, Homewood Suites by Hilton® and The Waldorf=Astoria Collection®.
For more information on Hilton Garden Inn hotels throughout North America and Europe or to make reservations, visit the company's web site at http://www.StayHGI.com or call 1-877-STAY-HGI.
About The Buccini/Pollin Group (Buccini/Pollin)
Buccini/Pollin is a privately held, full-service real estate acquisition, development and management company with offices in Wilmington, DE, Washington DC, suburban Philadelphia, Baltimore, and New York City. Buccini/Pollin has developed and acquired office, hotel, multifamily, townhouse, industrial, retail, and parking properties in the Mid-Atlantic and Northeastern regions of the United States. Buccini/Pollin has acquired or developed over $3 billion in assets, including six million SF of office, industrial, and retail space in 64 buildings, 3,200 hotel rooms in 17 hotels, six major residential communities, and 1,200 covered parking spaces. Buccini/Pollin is the largest privately held office landlord in the Philadelphia region.
About PM Hospitality Strategies, Inc. (PMHS)
PMHS is the hotel management affiliate of Buccini/Pollin. Based in Washington, DC, the company manages all of Buccini/Pollin's hotel assets, providing development, technical consulting, on-site management, and accounting expertise. Concentrated in the Mid-Atlantic, PMHS manages full-service and select-service hotels in the Hilton, Starwood, Marriott, and Choice families of brands. Since the opening of its first hotel in 1996, PMHS has participated in the development and acquisition/renovation of dozens of hotels with a market capitalization of $1 billion. PMHS is a preferred management company for leading hotel brands, including Hilton, Hilton Garden Inn, Embassy Suites, and Homewood Suites.
###