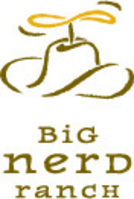 When I first began teaching this class, Cocoa development was seen as a bit of a niche market
Atlanta, GA (PRWEB) January 15, 2009
Can't Get Your Fill of Cocoa? Cocoa Bootcamp Returns to the Big Nerd Ranch, March 2-6, 2009
In an effort to meet the ongoing demand for Cocoa training, Big Nerd Ranch, Inc., premier provider of intensive classes for programmers, web developers and system administrators, announced the next offering of the popular Cocoa training class, Cocoa Bootcamp, slated for March 2-6, 2009.
Cocoa Bootcamp provides the best Cocoa training available and should be considered a requirement for anyone needing to develop applications for Mac OS X. Students attending the Cocoa class benefit from having Cocoa guru and Big Nerd Ranch founder Aaron Hillegass as the instructor. His book 'Cocoa Programming for Mac OS X,' now in its recently released third edition, is considered the virtual bible for Cocoa developers and serves as the course textbook.
"When I first began teaching this class, Cocoa development was seen as a bit of a niche market," said Hillegass. "As Apple commands more and more of the market and continues to set the standard for innovation, developers savvy in the ways of Cocoa are in demand. This class gives you the tools you need to develop real Cocoa applications that work."
The class, which assumes students have pre-existing familiarity with an object-oriented language like Java or C++, provides the most up-to-date training available. Hillegass has already integrated Xcode 3, Mac OX v 10.5 and Objective-C 2 into the curriculum, with extensive instruction in Core Data.
At the end of five short but intensive days, students completing the class will be able to:

Find and understand the online documentation
Understand the design patterns used in Cocoa
Seamlessly integrate Interface Builder and Xcode into their application design
Recognize several common idioms of the Cocoa community
Write complex applications for Mac OS X
The Big Nerd Ranch incorporates intensive training classes for Unix and Mac OS X programmers in a retreat setting outside Atlanta, GA. Class price of $3850 includes lodging, all meals, original instruction materials, 24-hour lab access, and transportation to and from the Atlanta airport. Students are encouraged to bring independent projects to class, allowing for input from classmates and individual instructor attention. For more information, call (404) 527-6211.
###