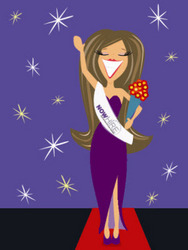 We know our ATS is the one to beat, and our evening gown, swimsuit and talent portions will blow the competition away
Detroit (PRWEB) January 15, 2009
nowHIRE.com will participate in the latest HRchitect "Beauty Pageant" Webinar. The webinar is part of a series featuring top vendors in a beauty pageant-type format. The webinar, focused on top applicant tracking system vendors, will take place on Friday, Jan. 16, 2009 at 9:00 a.m. Pacific time, Noon Eastern time.
The webinar is 90-minutes and will feature five contestants, including nowHIRE. CJ Donnelly, Business Development Director, and Patrick Kennedy, Senior Business Development Executive, will represent nowHIRE.
Each contestant will have the opportunity to present a succinct seven-minute presentation about their company, provide an overview of their offerings and answer attendee questions. At the end of the webinar, attendees will have the opportunity to vote on the contestant of their choice.
"We know our ATS is the one to beat, and our evening gown, swimsuit and talent portions will blow the competition away," said Donnelly. "We're honored to have been chosen because of how competitive the talent acquisition marketplace is."
HRchitect will also provide an overview of the applicant tracking system market, as well as observations and predictions of the market. HRchitect is the leader in HR systems strategic consulting and has an 11-year track record of working with clients to evaluate, select and implement Talent Management and HCM Systems.
To register for the complimentary webinar Assessing the Talent Management and HR Systems Landscape – An HRchitect Beauty Contest - Mid-market ATS, visit https://www2.gotomeeting.com/register/152573028.
About nowHIRE:
Since 1998, nowHIRE has provided applicant tracking systems for companies of every size within diverse vertical markets. Their industry-defining solutions feature fully integrated, Web-based recruiting and applicant tracking software modules. Companies can configure the software to their specific recruiting needs—for hourly, salaried, internal or contingent employees, or any combination thereof.
Media Contacts:
Joseph N Impastato II
nowHIRE.com
586-778-8491 (15)
Joseph.Impastato (at) nowHIRE.com
Adriana Saldana
Fisher Vista, LLC
831-685-9700
asaldana (at) hrmarketer.com
This press release was distributed through eMediawire by Human Resources Marketer (HR Marketer: http://www.HRmarketer.com) on behalf of the company listed above.
###