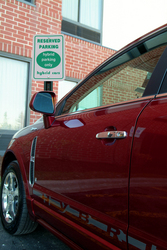 Vernon Hills, IL (PRWEB) January 15, 2009
No styrofoam cups or solvents can be found anywhere in the 100% non-smoking Hotel Indigo Chicago-Vernon Hills, which opened last fall with a full green agenda from the start. What guests will find is one of the area's few hybrid parking places that the hotel installed to increase consumer awareness and encourage guests to save gas and use lower emission transportation.
The Hotel Indigo Chicago-Vernon Hills is helping set eco-standards in the travel industry by instituting creative and aggressive programs to save water, energy and reduce solid waste. For example, in the area of water conservation, the hotel has implemented "Conserving for Tomorrow," an environmental program developed exclusively for InterContinental Hotels Group (the hotel's franchise company). There are low flow systems for faucets, toilets and showers, and guests are asked to use linens more than once to save water, detergent and energy. This program saves the hotel 7,200 gallons of water and 51 gallons of detergent per month. In addition, any chemicals used are eco-friendly.
Guests are greeted by a front desk and lobby Kirei board both made from reclaimed agricultural fiber, an eco-friendly wood substitute. Wall coverings are low VOC (volatile organic compound); Shaw Indigo wood laminate in guestrooms is made with 70% pre-consumer recycled content, and Johnsonite Millwork Base (an economical alternative to real wood that contributes to forest conservation) is featured in guestrooms and corridors.
For information, contact the Hotel Indigo Chicago-Vernon Hills at 1-847-918-1400, call toll-free 1-877-8-INDIGO (1-877-846-3446) or visit http://www.vernonhillsboutique.com/.
About Hotel Indigo Chicago-Vernon Hills
The new Hotel Indigo Chicago-Vernon Hills sports a fresh, innovative design that reflects the hotel's adherence to tranquility, renewal and the elements of nature, and a contemporary and comforting environment where guests can rest and recharge in luxury.
The hotel offers an innovative lobby; 127 stylish and beautifully appointed studio suites with hardwood floors, complimentary WiFi, flat panel TV and refrigerator; 'In.spiration' flexible event space; 24-hour "Phitness" studio; business center, and indoor heated pool.
Areas of the public space each take on a different seasonal theme to showcase tranquility and comfort. In addition, the hotel's PHI Bistro & Bar serves fresh menu selections that change every three months with seasonal "In.spirations." Healthy items include wholegrain muffins, non fat yogurt, fresh fruit, grilled fish and locally grown fresh vegetables. Full evening beverage service features martinis, a diverse wine list and 24-hour bottled beverages. PHI also offers "Martini Tuesdays" with three 2-ounce martinis of choice for a reasonable $5.99, along with discounts on delicious tapas appetizers to pair with its extensive line-up of 25 martinis. There is Grab-and-Go service with healthy and traditional snack items, and full service Starbucks coffee bar through the "We Proudly Brew" program. Take-in service is available.
Hotel Indigo Chicago-Vernon Hills is located at 450 North Milwaukee Ave., an easy walk to shopping and entertainment, and minutes from numerous restaurants, the Cuneo Museum, Gurnee Mills Outlets and Great Lakes Naval Base. The hotel offers complimentary shuttle service within a five-mile radius, based on availability.
# # #