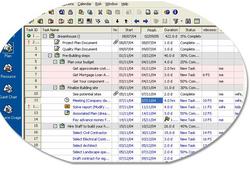 Alexandria, VA (PRWEB) January 16, 2009
Accord Software & Systems announced a 50 percent discount on purchase of their Smartworks family of products for the entire year of 2009. This is our way of assisting recession hit organizations and individuals to improve their productivity by making our tools more affordable.
This discount is applicable for all the tools included in the Smartworks product family for the entire year. Smartworks family of products lets you organize meetings, track issues and manage your projects. The product family includes Project Planner, Smart tracker and Meeting manager.
Project Planner is software, which helps to plan, manage and Track a project. It provides the flexibility to split a project into well-defined tasks in a spreadsheet like interface. SmartTracker is a user-friendly, general-purpose tool for tracking and monitoring workflow. The items, which can be tracked, include but not limited to defects in products, bugs in software and complaints related to services. Meeting Manager can be used to schedule and keep track of meetings and resources in an organization. This tool will help you to organize meetings, inform attendees and to track post meeting action points till closure.
Smartworks's website (http://www.smartworks.us/) gives various free utilities like MS-project / primavera file reader. It also has a range of white papers and tutors, which will help the users in understanding various concepts of Project management. There are also white papers, which explain about how to save cost in these trying times. These white papers can be downloaded / read from our website.
http://www.smartworks.us/htm/article.htm
Contact us at:
Accord Software & Systems Inc.,
#6181, Suite 400, Lincolnia Road,
Alexandria, VA 22312.
Phone: (703) 916-0623.
Fax: (703) 916-0624.
URL: http://www.smartworks.us
# # #