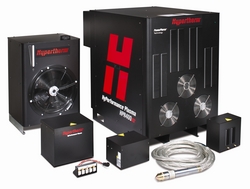 Based on customer feedback, we believe the capabilities of the new HPR400XD will exceed the needs of the market
Hanover, NH (PRWEB) January 17, 2009
Hypertherm, the world leader in plasma arc metal cutting technology, is building upon its industry leading HyPerformance® technology with the launch of the industry's first HyPerformance 400 amp system.
The HyPerformance Plasma HPR400XD® has the distinction of being the fastest, most powerful HyPerformance system ever. Patent pending PowerPierce™ technology gives it industry leading production piercing capability that far exceeds other 400 amp systems in the market, as well as systems rated at even high power levels. In addition to metal cutting, the system can also pierce metal that is 60 percent thicker than the HPR260 and up to 25 percent thicker than any other high-amperage system available today.
In addition to unmatched power, the HPR400XD is fast. The use of a patented consumable design means it delivers precise HyDefinition cuts at speeds that are 30 percent faster than the HPR260. The inclusion of patented technology enables precise metal cutting for longer periods of time at half the normal operating cost.
The addition of the "XD" naming suffix highlights several new capabilities that come with the HPR400XD. Argon capabilities deliver improved marking, improved thin stainless steel capabilities, increased power supply current accuracy and an Ohmic tab solution that is integrated into the torch body.
The unit, first previewed at the FABTECH International and AWS Welding Show 2008, is receiving an enthusiastic response from the market. Significant pre-launch demand is driven by customers who are excited they can soon not only make faster cuts but cut thicker metal.
"Based on customer feedback, we believe the capabilities of the new HPR400XD will exceed the needs of the market," said Kat McQuade, product marketing manager for Hypertherm's HyPerformance line. "Our most versatile HyPerformance system ever offers even greater speed and thickness capabilities, while still providing superior cut quality and lower operating costs."
Hypertherm designs and manufactures the world's most advanced plasma metal cutting systems for use in a variety of industries such as shipbuilding, manufacturing, and automotive repair. Its product line includes handheld and mechanized plasma systems and consumables, as well as CNC motion and height controls. Hypertherm systems are trusted for performance and reliability that results in increased productivity and profitability for tens of thousands of businesses. The New Hampshire based company's reputation for plasma innovation dates back 40 years, to 1968, with Hypertherm's invention of water injection plasma cutting. The company, consistently named one of the best places to work in America, has more than 1,000 associates along with operations and partner representation worldwide.
###