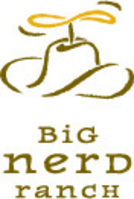 Smart companies and entrepreneurs have always known that even the smallest thing can be what differentiates them from their competitors
Atlanta (PRWEB) January 19, 2009
Big Nerd Ranch Announces a Second Chance on iPhone Training in the First Quarter, March 23-27, 2009
With other sectors of the economy slowing, the demand for iPhone and applications for the mobile device continues to grow. Big Nerd Ranch, Inc., premier provider of intensive week-long classes for programmers, web developers and system administrators, is poised to meet that demand with a recently announced second offering for the first quarter of its immensely popular iPhone Bootcamp, March 23-27, 2009.
Big Nerd Ranch's iPhone training is truly best-in-class, providing the most comprehensive iPhone and iPod touch development training available for developers seeking to capitalize on this growing technology market. Big Nerd Ranch has taught this iPhone training class for a variety of industry leaders including Cisco, AT&T, SAS and others, while previous in-house offerings have sold-out within weeks of their releases dates.
"Smart companies and entrepreneurs have always known that even the smallest thing can be what differentiates them from their competitors," said iPhone instructor Joe Conway. "In this case, the smallest thing is a mobile device, and the opportunity for application development for this platform is enormous. Being able to capitalize on this growth now might be what makes or breaks a company's ability to succeed in the long-term."
The class moves fast and students should be prepared to work hard. After a brief introduction to Objective-C, students are immediately immersed into the iPhone UI framework, with in-depth instruction on the key subjects necessary to emerge as an iPhone and iPod touch developer, including:

Creating elegant user interfaces, setting up text input fields and displaying the virtual keyboard onscreen
Integrating location-based components into applications such as GPS, Cell Tower Triangulation, Wifi Access Point Location and localizing applications for international use
Drawing and animating using Core Graphics, Core Animation and OpenGL
Integrating telephony services and multimedia into applications
Handling multi-touch events
Accessing web services and databases to pull data for use in applications
The Big Nerd Ranch incorporates intensive training classes for Unix and Mac OS X programmers in a retreat setting outside Atlanta, GA. Class price of $3850 includes lodging, all meals, original instruction materials, 24-hour lab access, and transportation to and from the Atlanta airport. Students are encouraged to bring independent projects to class, allowing for input from classmates and individual instructor attention. For more information, call (404) 527-6211 or visit http://www.bignerdranch.com.
###