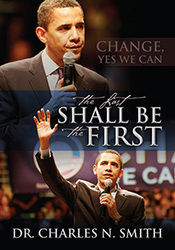 The Last Shall Be The First
New York, NY (PRWEB) January 16, 2009
Outskirts Press author Dr. Charles N. Smith recently released his latest historical/inspirational work, "The Last Shall Be The First", a book that focuses on why Barack Obama will be the next president of the United States and chronicles the many firsts that African-Americans have achieved in history. Dr. Smith illustrates how Obama's desire to look beyond race has ignited a fire of change that has made Americans believe in this country once again.
African-Americans have always had to run from the back of the pack in order to get to the front and achieve success; but each time they have run and won, America has become greater. With Obama's landslide win in the recent Presidential election, it is a truly inspirational book that will motivate and encourage all people to strive for excellence.
Dr. Smith was inspired to write "The Last Shall Be The First" when he realized that Senator Hillary Clinton, a woman, and Senator Barack Obama, an African-American, had a very good chance to become, for the first time in history, the nominee for the Democratic Party and candidate for the Presidency of the United States. It was the first time in history that candidates from two groups that had to fight for their rights as citizens of this country had reached that level. However, as he watched closely, he began to realize that the true person for this giant task, at this particular time was Obama. He brought a different flavor and sense of commitment to this presidential campaign that no one else in the past has been able to do.
Obama's time has come, and "The Last Shall Be The First" shows how his political agenda is designed to take the country in a new direction. This book provides an opportunity for readers to look at the issues and bills Obama supported during his tenure as an Illinois state senator, review what he has accomplished while in office, and examine where he stands on important issues facing this country.
The country is crying out for someone with a fresh outlook; someone who sees America through very different lenses; and someone who sees America as she should be--a country where all Americans can believe in the true American creed. Dr. Smith believes that Barack Obama fits that bill perfectly - he is the new "Jubilee", a prophecy fulfilled, a leader, ready and able to lead America.
About the author:
Dr. Charles N. Smith is Vice President for Student Affairs at Alabama State University. Dr. Smith earned a BS in Psychology, an MS in Rehabilitation Counseling from Virginia Commonwealth University in Richmond, Virginia, and an Ed.D in Higher Educational Administration from Virginia Polytechnic and State University in Blacksburg, Virginia. His previous books are On the Sideline or in the Game, and A Funeral, a Wedding, and the Journey Between. He currently lives in Montgomery, Alabama with his family. He believes that the 2008 election was the most historical election since those of Thomas Jefferson, Abraham Lincoln, and John F. Kennedy.
"The Last Shall Be The First"
Dr. Charles N. Smith
Outskirts Press
Publication Date: September 17, 2008
ISBN: 9781432727918
$15.95, paperback; 155 pages; 7 x 10"
"The Last Shall Be The First" is available on http://www.Amazon.com, http://www.BarnesandNoble.com or autographed copies can be ordered from 302.242.5930, http://www.charlesnsmith.com or CK4J Productions, LLC, P.O. Box 11762, Montgomery, AL 36111 for $15.95 plus $2.53 post/hdlg.
For more information, author appearances, reviews and media inquiries please contact:
Dana Hill
Divine Marketing Group
917.596.6883
###